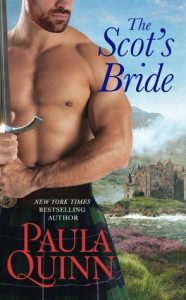 I won a copy of Paula Quinn's The Scot's Bride through Goodreads. Conveniently, I was also looking to read a book by an author beginning with Q for my alphabet challenge.
Description from Goodreads:
AN IRRESISTIBLE SCOUNDREL
Highlander Patrick MacGregor likes his life just the way it is. Fighting for his coin, enjoying a woman's charms, and bearing no responsibility at all. Aye, that's the life for him. That is, until Patrick sees her-a raven-haired beauty with eyes as dark as midnight. Patrick swore never to fall in love. Not even with a lass as wild as he…especially when she's from a rival clan.
AN UNDENIABLE DESIRE
Charlotte Cunningham knows Patrick is trouble the moment she sets eyes on him. Her only goal is to escape the possibility of marriage. Any marriage. But as the summer days turn into sultry nights, enticing her beyond reason, Charlie is forced to choose between the freedom she craves and the reckless rogue she can't forget.
Review:
Note first that this book is apparently part of a large series that I've not read. It stood alone just fine, though I could feel some history was there that I was missing. But I don't think it effected me too much. It seemed to mostly centre around the male MCs family's sense or honor and therefore I should know what kind of man he really was, even as he acted a rogue.
Note also that this whole Historical Romance, Historical Highlander Romance (which seems to be its own subcategory) is new to me and one I avoided for a long time because I'd never read anything in it I liked.
Not also that I recently read The Scot Beds His Wife, by Kerrigan Byrne and didn't hate it. I had a few quibbles. It contained some of the things I dislike about the genre, like men who kiss women even when they're being told not to and women who then melt for them. But it also had a lot I liked. I decided I had judged the genre too harshly. So, I thought I'd give this one a try.
Note lastly that I was wrong. This book has all the things I dislike about the genre squashed into its pages. I cannot tell you how many times I made gagging noised while reading this book. I cannot tell you how incensed I was that Patrick pursued Charlie even as she adamantly told him not to. I cannot tell you how angry I was that he kissed her when she told him she didn't want him to and how much I disliked that she then, of course, groaned for it. I cannot tell you how sick I was of reading how physically perfect both characters were. I cannot tell you how little respect I had for a woman who recognized a rogue and all his tricks and still fell for him. I cannot express how annoying the artificial and excess drama was. Why do we need bandits and people randomly trying to steel wives and dead neighbors and returning lost loves?
Outside all of that, I found a lot of the language too flowery and occasionally anachronistic, the writing painfully repetitive and the book just too long. I suspect that I was never going to like this book. If I'm going to enjoy this genre, I'll have to find a way to tell the difference between this sort of book and ones with a bit more substance, a few less winking rapscallion heroes, and heroines that are strong and independent in ways beyond being mouthy. I tried. Now I know better.