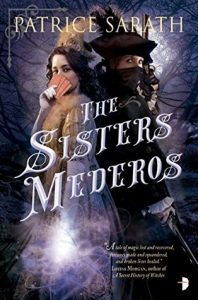 I received a copy of The Sisters Mederos
, by Patrice Sarath, through Netgalley.
Description from Goodreads:
Two sisters fight with manners, magic, and mayhem to reclaim their family's name, in this captivating historical fantasy adventure.
House Mederos was once the wealthiest merchant family in Port Saint Frey. Now the family is disgraced, impoverished, and humbled by the powerful Merchants Guild. Daughters Yvienne and Tesara Mederos are determined to uncover who was behind their family's downfall and get revenge. But Tesara has a secret – could it have been her wild magic that caused the storm that destroyed the family's merchant fleet? The sisters' schemes quickly get out of hand – gambling is one thing, but robbing people is another…
Together the sisters must trust each another to keep their secrets and save their family.
Review:
This started out well and had a fine ending (though the epilogue seemed unneeded), but it felt like the middle dragged quite a lot. I appreciated the two strong female leads, one of which was disfigured and one brainy, and the writing was perfectly functional. But I felt like things came a little too conveniently for the girls and the 'mystery' was a bust. The villain was so obvious as to be painful. Lastly, I thought the cross-dressing 'mistress' was just queer-baiting. All in all, not bad, but not a true winner either.