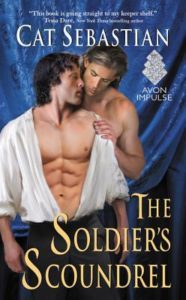 I purchased a copy of Cat Sebastian's The Soldier's Scoundrel. It was the buddy read in one of my favorite online groups.
Description from Goodreads:
A scoundrel who lives in the shadows
 
Jack Turner grew up in the darkness of London's slums, born into a life of crime and willing to do anything to keep his belly full and his siblings safe. Now he uses the tricks and schemes of the underworld to help those who need the kind of assistance only a scoundrel can provide. His distrust of the nobility runs deep and his services do not extend to the gorgeous high-born soldier who personifies everything Jack will never be.  
 
A soldier untarnished by vice 
 
After the chaos of war, Oliver Rivington craves the safe predictability of a gentleman's life-one that doesn't include sparring with a ne'er-do-well who flouts the law at every turn. But Jack tempts Oliver like no other man has before. Soon his yearning for the unapologetic criminal is only matched by Jack's pleasure in watching his genteel polish crumble every time they're together.  
 
Two men only meant for each other
Review:
Really lovely, I thought. I enjoyed the way Oliver and Jack rubbed each-other the wrong way (when they weren't rubbing each-other the right way). I enjoyed the way Oliver was almost boyish in his straight forward, goal-oriented pursuit of Jack and the way Jack enjoyed it despite himself. I liked that Jack was a bit older than the average romance hero and I liked the close friendships between the sister and her 'companion.'
I did think the book a little too long, or at least longer than what seems to be the average for such books. The mystery especially seemed to take forever to come to a head. And, after all Jack's protests about social position, I thought the ending didn't adequately address how they were going to make their HEA work. But the writing was lovely. There was humor and feelz. I'm looking forward to reading more of Sebastian's work.
On a side note: I understand the cover is a mimicry of the het historical romances Avon has published in the past (bodice rippers especially, I think), but I hate it. Do with that what you will.