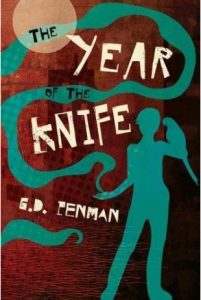 I received a copy of G.D. Penman's The Year of the Knife
from the author.
Description from Goodreads:
Agent "Sully" Sullivan is one of the top cops in the Imperial Bureau of Investigation. A veteran witch of the British Empire who isn't afraid to use her magical skills to crack a case. But Sully might need more than a good education and raw power to stop the string of grisly murders that have been springing up across the American Colonies. Every one of them marked by the same chilling calling card, a warning in the form of a legion of voices screaming out through the killers' mouths: "It IS tHe YEAr oF the KNife."
Sully's investigation will drag her away from the comforts of home in New Amsterdam, the beautiful but useless hyacinth macaw that used to be her boss, and the loving arms of her undead girlfriend, in a thrilling race against time, demonic forces and a shadowy conspiracy that will do anything to keep its hold on power and ensure that Sully takes their secrets to her grave, as soon as possible.
Review:
Generally really enjoyable. There is some good humor and the writing is fun. I liked the cast of characters and the little bit of softness Sully shows when it comes to Marie. Which is especially notable because the book does suffer a bit from tough woman must be tough syndrome. By this I mean the common occurrence where authors want to make a woman seem strong and capable, so they make her overly violent and prickly. Gleeful violence is Sully's first response to everything and it leaves her a little hard to relate too.
Certain aspects of the book confused me. I never wholly got my head around the political and geographic landscape that the story occurs in, and the confines of the magic system are vague. So, I never understood the limitations of what is or isn't possible.
All in all, however I really liked The Year of the Knife and look forward to more.