I received an e-copy of The Wounded Ones (Witch of Empire #2) by G.D. Penman through Netgalley. You can find my review of The Year of the Knife, book one of this series, here.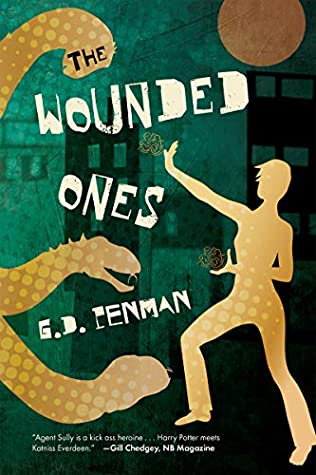 Description from Goodreads:
Demons and serial killers are Iona "Sully" Sullivan's bread and butter, but nothing could have prepared her to face off against the full weight of the British Empire at the height of its power. With the War for American Independence in full swing, she finds even her prodigious talents pushed beyond their limits when citizens of the American Colonies begin vanishing amidst rumours of crop circles, hydra sightings and worse.

Through a wild and lethal adventure that will see her clashing with the Empire around the world and beyond, the only constants in Sully's life are an undead girlfriend, a giant demon crow that seems to be trying to court her, regular assassination attempts by enemies on all sides and the cold certainty that nothing and nobody is going to make it out of this war in one piece.
Review:
It took me a while to get into this book, which worried me a little. It's been a while since I read book one, but I remembered liking it. So, I worried I was going to be disappointed when I didn't immediately love this one. But I stuck with it and it paid off.
Once the action starts rollicking along it doesn't stop. Mostly though, I love Sully. She's just the sort of sarcastic, kick-ass broad I like to read about. I did think all the fighting got a little tedious and she does have a pretty serious case of unkillable. It reduces the tension of a book somewhat, knowing she'll suicidally throw herself into danger but miraculously survive every time (often without any apparent emotional scarring). I also thought Marie was reduced to a mere plot device here, which was a shame.
Overall, however, I enjoyed this and look forward to more. And there must be more because this one ended with a pretty big loose end.