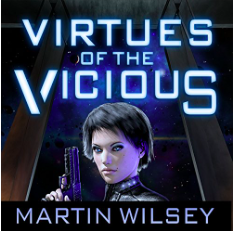 I received an Audible code for a copy of Virtues of the Vicious, by Martin Wilsey.
Description from Goodreads:
Elizabeth Cruze came to Earth for one reason: to buy weapons. She never counted on ending up in prison. Never fear, though, she's not planning on staying there long. 
Special Investigator Neal Locke has made a career out of catching the most elusive and dangerous criminals. He's never failed to "get his man." 
When Cruze escapes from prison, Locke is tasked to track her down. She should be easy to find…all he's got to do is follow the trail of bodies. 
But Locke has been an investigator for a long time. It doesn't take him long to figure out that there's more going on than what he's been told… 
Review:
Much in the style of Leviathan Wakes, Virtues of the Vicious follows someone going about their galactic adventure and an older, somewhat jaded investigator tracking behind them, slowly learning that there is more to his investigation than meets the eye. 
I generally enjoyed the story. I liked the characters and Wilsey's writing style. I liked that the main characters were older and there was some diversity in the cast. However, I also three separate times tried to check Goodreads, Amazon or Google to ensure this wasn't the second book in a series. It completely feels like it must be. Characters are mentioned that aren't introduced until much later, the political system of the universe is left for the reader to figure out, and there is simply a distance felt that I imagined was caused by a lack of previous books. From what I could discern, this is set in the same universe as Wilsey's other books, but not connected. 
There were a number of too convenient to be believed events that solved problems for the crew, Cruze seemed to find that crew willing to go to war with her without even trying (that could actually just be part of the previous point), and the villain was dispatched a little too easily. It was anti-climactic. 
I also thought the pacing was inconsistent and dialogue needlessly formal at times. The farther into the book I got the fewer contractions I noticed, for example. I think Shore's narration exacerbated this though. While I think she did a good job, some of the sentences that I felt needed contractions and didn't have them felt even more stiff in her mouth. 
All in all however, despite these complaints, I'll be looking for more of Wilsey's writing. I liked what I saw.