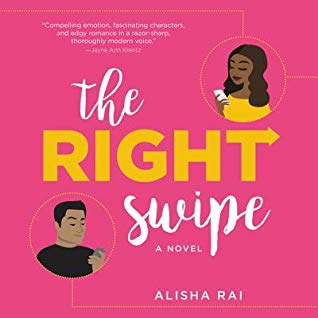 I won a paperback copy of Alisha Rai's The Right Swipe through Goodreads. However, since I seem to be listening to a lot more books than reading lately, I borrowed an audio copy through Hoopla to listen to . I'll put the paperback in the Little Free Library next time I swap books.
Description from Goodreads:
Rhiannon Hunter may have revolutionized romance in the digital world, but in real life she only swipes right on her career—and the occasional hookup. The cynical dating app creator controls her love life with a few key rules: 
– Nude pics are by invitation only 
– If someone stands you up, block them with extreme prejudice 
– Protect your heart 
Only there aren't any rules to govern her attraction to her newest match, former pro-football player Samson Lima. The sexy and seemingly sweet hunk woos her one magical night… and disappears. 
Rhi thought she'd buried her hurt over Samson ghosting her, until he suddenly surfaces months later, still big, still beautiful—and in league with a business rival. He says he won't fumble their second chance, but she's wary. A temporary physical partnership is one thing, but a merger of hearts? Surely that's too high a risk…
Review:
I have to give a caveat that contemporary romance isn't really my jam. I love me some romance, but I'd rather it be set on Mars or in some fantasy realm with Elves or dragons. But interesting looking contemporary romances keep falling in my lap and I'm reading them. 
There seems to be a trend lately of writing romances that correct for all the harmful BS that the genre has suffered from in the past (and a lot of why I've avoided it). They're sex positive, inclusive, diverse and feminist. And I cannot tell you how strongly I am here for that shift in tone! The Right Swipe has that in spades. Samson basically offers to hold Rhi's purse while she works toward world domination. I loved it. 
I did think Rhi was overreactive at times and the book bordered on didactic on several fronts. But I loved Samson and generally enjoyed the story. Plus, Morton and Pallino did great jobs with the narration.