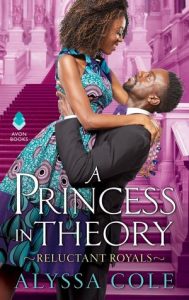 I borrowed a copy of A Princess in Theory, by Alyssa Cole, from my local library.
Description from Goodreads:
Between grad school and multiple jobs, Naledi Smith doesn't have time for fairy tales…or patience for the constant e-mails claiming she's betrothed to an African prince. Sure. Right. Delete! As a former foster kid, she's learned that the only things she can depend on are herself and the scientific method, and a silly e-mail won't convince her otherwise.
Prince Thabiso is the sole heir to the throne of Thesolo, shouldering the hopes of his parents and his people. At the top of their list? His marriage. Ever dutiful, he tracks down his missing betrothed. When Naledi mistakes the prince for a pauper, Thabiso can't resist the chance to experience life—and love—without the burden of his crown.
The chemistry between them is instant and irresistible, and flirty friendship quickly evolves into passionate nights. But when the truth is revealed, can a princess in theory become a princess ever after?
Review:
I liked it as much as I ever like any Contemporary Romance, considering I usually dislike the genre in general. (I almost always find them boring across the board.) I liked aspects of the book: the consciously aware heroine of color, representations of challenges specific to a heroine in a less privileged social position that are often overlooked, a hero who wasn't an alpha-asshole, his insistence on consent, that sex focused on her pleasure instead of his, that she was allowed to be sexually active and wasn't shamed, that she had a backbone when it mattered, etc. But I also found it repetitive, predictable and (yes boring).
I chose to read it because it has tons of good reviews and because I want to support books written by and about marginalized peoples. (Which makes my less than enthusiastic response to it a bummer.) I think this book earned it's accolades and I think those who like CR will love this. I went out on a branch and found a good story and representation, but all of it still wrapped in a manner I don't particularly enjoy. (The addition of dragons or hyper drives or vampires might have made it a winner for me.) All in all, CR readers should definitely read this. Those who don't gravitate toward the genre, like me, might finish feeling luke-warm, appreciating it, but not necessarily enjoying it.