I picked up an Audible code for a free copy of Witch Myth: Wildfire, by Alexandria Clarke. The cover looks Christmasy, even if the blurb doesn't. So, I'd meant to read it over the Christmas break but never got around to it. So, I listened to it on Twelfth Night as I took the Christmas decorations down.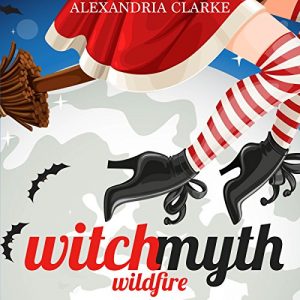 When a 16-year-old girl disappears from her hometown without a trace, stumping the local police force, the only person who has any hope of finding her is her older sister, Kennedy. The siblings share an otherworldly bond, which leads Kennedy to the peculiar, deserted town of Yew Hollow. Kennedy soon uncovers a coven of witches, a tragic secret, and something that she never knew about herself. When her number one priority is her little sister's safety, Kennedy's decision to stay in or leave Yew Hollow is the hardest one she'll ever make.

As I said, I picked this up because the cover made me think it was a Christmas story. But it isn't. It's set in October and ends long before December. I suspect that if I took the time to look, I'd find that this isn't the cover the book always has, but that the author changed it to catch the seasonal readers. I feel a little manipulated by that, if I'm honest. (Of course, doing that would require figuring out the naming convention of having two books…maybe series…named Witch Myth and even Witch Myth: Wildfire, explicitly. I'm confused.)
I thought this was ok. Not fabulous, but not complete trash either. But I wouldn't call it a cozy paranormal mystery. Paranormal, yes. Mystery, yes. But there is very little cozy to be had. So, don't go in expecting anything the cover or subtitle leads you to expect. Yeah, still feeling a little manipulated over here.
All in all, I liked the characters, and the writing was mechanically fine. But the story feels like a spin-off, the characterization is on the simple side, and the book ends on a cliffhanger at exactly the point it feels like the actual story (as opposed to all the setup) looks to actually be starting.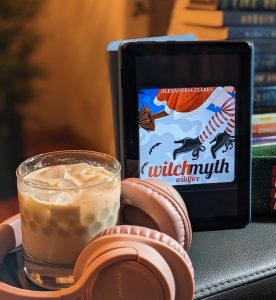 Lastly, the audio production and narration were only OK. Several words were oddly pronounced. Let me rephrase; a lot of words are mispronounced. And there is the occasional noticeable blip in the smoothness of the narrative, where you could tell it has been spliced together. Both of these yanked me out of the story when they happened.
So, all in all, not a real winner for me. But mostly, it just didn't catch and hold my attention. I think those who like the genre will enjoy it.
---
Other Reviews: