I picked up a copy of Jaclyn Osborn's Found at Sea (Tales of Fate #1) as a freebie on Amazon.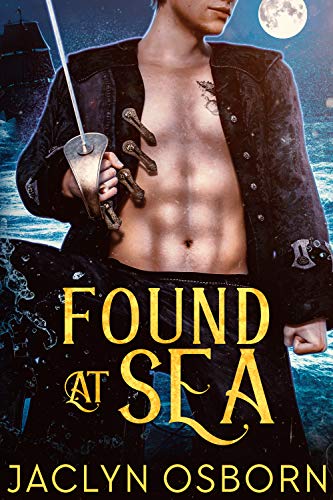 Kellan
They call me the demon of the sea. A pirate captain so cruel that not even death will claim me. They aren't wrong.
Any humanity I once had is gone. I'm cursed. A curse that will someday consume me, unless I find the key to breaking it. Just when I'm beginning to lose hope, I meet an auburn-haired beauty in a tavern who captivates me like no other, and my cold heart starts to beat again.
He's innocent. Pure. And I'm so very wicked. But I still crave him.
Fletcher
I crave adventure. Listening to sailors weave tales of their exploits makes me long to see the world as they have. But my life is ordinary. Then, pirates enter the tavern one night and press-gang me to join the crew.
I'm both afraid and excited by what awaits me aboard the legendary pirate ship. Captain Kellan Flynn is dangerous. However, he awakens a desire I've never felt before. The cold, hard stare he gives others softens when he looks at me.
If he's as horrible as they say, why do I feel so drawn to him?
*Found at Sea is a fantasy romance featuring a grumpy pirate, sexy times in the captain's cabin, and swashbuckling adventure. HEA guaranteed.*

I quite enjoyed this. It wasn't flawless. The writing gets a little jinky at times (the descriptors in the sex scenes seemed to especially make me cringe), it's super sappy, and the plot is really predictable. Plus, there's the disconnect between the DREADED PIRATE and the fact that the character is actually really sweet. I realize that his growth from a bad man to a good man is one of the primary plots of the book, but he kind of feels like he starts as a good man. So, I never really believed him as this blood-thirsty, horrible, feared pirate.
Having said all that, I just enjoyed reading the story. I liked the characters. I liked the platonic friendships and that there were straight, bi, and gay characters. I'm curious enough to see what happens to Alek to seek out the next book. And doesn't that really say more than anything else? I'm ready for more.