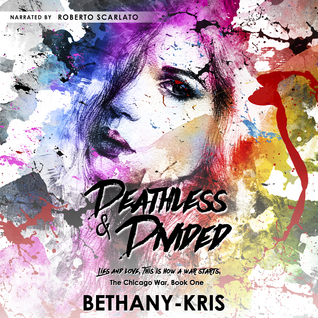 I received an Audible code for a copy of Deathless & Divided, by Bethany-Kris. It's narrated by Roberto Scarlato.
Description from Goodreads:
Lies and love. This is how a war starts.
A life for a life. That's the mafia way. Damian Rossi owes his life to a man who is ready to collect. That payment comes in the form of an arranged marriage to the daughter of another leading family in the Chicago Outfit. He's ready to follow through, even if that means making sure Lily knows she's his.
Lily DeLuca isn't being given a choice. Forced home to marry a man she doesn't know and back into a life she'd rather forget, her world is full of half-truths, buried pain, and uncertainty. But Damian is nothing like she expects. His motives aren't clear. Her beliefs are being tested.
When it comes to this world, no man can be trusted. Someone is ready to flip the Chicago Outfit on its side all for the promise of something better. But no one runs a clean game and these men play for keeps. When blood begins to paint Chicago red, four families will be divided by loyalty, hatred, and revenge. There is no hiding. There is no safety.
No one is deathless.
No one.
Review:
This wasn't bad, not what I expected going in, but not bad. I liked that Lily wasn't a push-over and Damian was too charming for words. I really liked all the behind the scenes manipulation happening between the bosses, though I guessed who was behind it all from the beginning. The writing flows and Scarlato, the narrator, did a good job. 
I did think Lily got over her resistance too quickly and then the two of them were instantly in love and willing to go to any lengths for one another. It was a little too much too quickly. But again, not bad. 
I just had one big complaint (that has multiple facets). While it may be goshe to talk about sex, I'm going to…in some detail. My first big complaint came with the first sex scene. The whole premise of the book is that Lily has been called home to Chicago and her mafia family to be married off. She's angry about this, feels like chattel, struggles against the whole idea. Damian—her intended—tries hard to convince her this isn't the case. So, when in the very first sex scene he starts all the "tell me who this belongs to" (when talking about her pussy), "you're mine," "say you're mine," "you belong to me," etc it smacked as seriously out of place. It should have undone all his work to convince her she wasn't a piece of property. It did not fit any of the previous set up of the plot. 
Second, I kind of wonder if Bethany-Kris doesn't usually write MM romance, instead of M/F, because Lilly is the soppiest woman I've ever heard of during sex. There were so many references to things like HER cum leaking down her legs. I mean, that she's wet is great, and maybe she's a squirter (but none of that is mentioned) just lots and lots of HER cum. Merriam Weber reminds me that cum can be used as a noun to mean orgasm, but that's not really how I sensed it being used here. It read like the fluids coming during orgasm, which Merriam Weber also dictates as specifically semen. So, all this cum felt off when referring to a CIS female character. I don't think we had a single reference to Damian's semen though. 
Lastly—and again this leads me to wonder if Bethany-Kris isn't more comfortable with MM—the anal sex. I have no problem with this being included. Heck, change it up on occasion. Great. But the way it was build up as being something special and momentous irritated me. The way her giving him her ass is somehow more meaningful than any of the previous sex, like it's a culminating act, felt contrived and pointlessly titillating. Plus, I knew with 100% certainty that was going to happen as soon as he mentioned it in the first sex scene. So, it was disappointedly predictable, not taboo and exciting in any fashion. 
All in all, as much as I like a good erotic book, the sex in this one often rubbed me the wrong way (pun intended). But I generally enjoyed the book.