I actually have both an e-copy and an audio copy of Blood and Fire, by Kim Mullican. I chose to listen to it. Though it's had a cover facelift since, the book was featured over on Sadie's Spotlight. You can hop over there for an excerpt.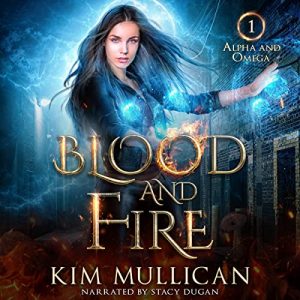 I am Maia Delacroix and I hunt people and relics. My life does not lack excitement or danger. I have it in spades.
Then the Mageri surprised me with an orphan…yes, an orphan. I can't even keep a house plant alive, let alone a kid. It turns out that I'm her only living relative, and even though we've never met, I'm her only hope. Great. Can I feed her after midnight? What does she eat? I have no idea what I'm doing.
They tell me this little witchling will need care for a few years until she comes of age. The bizarre fire leaking out of Elaina's hands is a pretty good indicator that she is no witch.
Then the coven comes—they want her back. Necromancers show up, turning my vampire friends into enemies. If that isn't bad enough, I have a demon problem now too.
Join me, and see if we can make it out alive!


I'm struggling to write this review. There really wasn't anything wrong with the book. But I finished it last night and I'm sitting here, at 8:40 the next morning, trying to remember anything of significance to mention. The whole thing just made that little impression.
I did like Maia and the world was littered with interesting characters…or maybe caricatures. But the whole thing was super simplified. You have what appeared to be a fairly advanced governing and/or policing organization in the supernatural world. Which means I had a hard time imagining the witches Maia faced would really be able to do as the did without some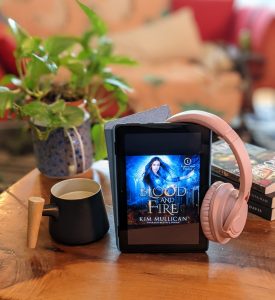 intervention. Several convenient plot devices occurred to tie things together. And everyone singing Kumbaya and coming to the defense and assistance of Maia felt super contrived.
The narrator did a fine job and the writing was mostly fine. Past the halfway mark the book seemed to lose contractions, so the narrative/narration felt a lot less natural. I don't know if I should blame the narrator (Stacy Dugan) or author for that though.
All in all, I think this was a  middle of the road read for me. I'd continue the series, but I'm not in any hurry about it.
---
Other Reviews:
Kindle #Giveaway Review BLOOD AND FIRE by Kim Mullican @kimmullican @RockstarBkTours Ends 3.11