Sooo, funny story about how you can think you remember something and be completely wrong. I knew I signed up to read and review Coven, by Jenifer Dugan and Kit Seaton. So, I wasn't surprised when it showed up in the mail. Usually when I receive a graphic novel, it's from Rockstar Book Tours. So, I set the book aside, waiting for the email to tell me my assigned tour date. And I waited and waited and waited.
Finally, it had been so long I went to the website searching for the tour dates and was confounded to not be able to find anything listed. That is until a few days later, when I received the polite email from Bookish First reminding me not to forget to post my review. Oooooh, that's where I signed up! Bookish First has no assigned dates; I could have reviewed Coven the day it arrived. So, I dived right in.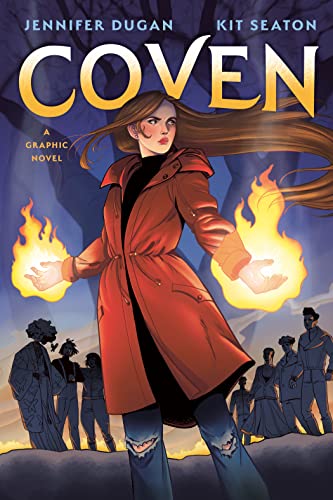 Emsy has always lived in sunny California, and she'd much rather spend her days surfing with her friends or hanging out with her girlfriend than honing her powers as a fire elemental. But when members of her family's coven back east are murdered under mysterious circumstances that can only be the result of powerful witchcraft, her family must suddenly return to dreary upstate New York. There, Emsy will have to master her neglected craft in order to find the killer . . . before her family becomes their next target.

I generally really enjoyed this. I thought the art was gorgeous and the book portrayed the volatile, hyper-focused, but not always very logical mindset of teens well. It handled the grief aspect equally as well.
I liked the plot (though I figured out who the villain was very early on). There was a little humor, a lot of diversity, and I thought Emsy coming to accept her coven as family counted as personal growth. I can imagine her, Ben, and Ash as the power trio of the up-and-coming generation of the coven.
I did think the pacing a bit off; the beginning dragged bit more than needed and most of the action is packed into the last third. Plus, I feel like we could have been given more resolution between Emsy and her California friends. But all in all, I'll call this a win. I'd be happy to read another contribution from Jennifer Dugan and/or Kit Seaton.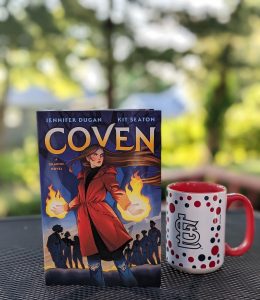 ---
Other Reviews: