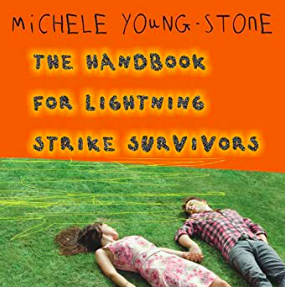 I was short a Y-author for my yearly alphabet challenge (where I read a book by an author with a last name starting with every letter of the alphabet). So, I borrowed The Handbook for Lightning Strike Survivors (by Michele Young-Stone) from the library.
Description from Goodreads:
BECCA
On a sunny day in Chapel Hill, North Carolina, eight-year-old Becca Burke was struck by lightning. No one believed her—not her philandering father or her drunk, love-sick mother—not even when her watch kept losing time and a spooky halo of light appeared overhead in photographs. Becca was struck again when she was sixteen. She survived, but over time she would learn that outsmarting lightning was the least of her concerns.
BUCKLEY
In rural Arkansas, Buckley R. Pitank's world seemed plagued by disaster. Ashamed but protective of his obese mother, fearful of his scathing grandmother, and always running from bullies (including his pseudo-evangelical stepfather), he needed a miracle to set him free. At thirteen years old, Buckley witnessed a lightning strike that would change everything.
Now an art student in New York City, Becca Burke is a gifted but tortured painter who strives to recapture the intensity of her lightning-strike memories on canvas. On the night of her first gallery opening, a stranger appears and is captivated by her art. Who is this odd young man with whom she shares a mysterious connection? When Buckley and Becca finally meet, neither is prepared for the charge of emotions—or for the perilous event that will bring them even closer to one another and to the families they've been running from for as long as they can remember.
Review:
I really loved the ending of this book, which tends to make me forget that I didn't actually love the rest of it. I liked the characters and the mechanical writing is fine, but I hate all the jumping around in time. I couldn't temporally keep up, never knew anyone's approximate age at any one point (and this book starts in childhood), and never knew how those ages related to one another.
Further, the main characters don't meet until like 80% into the book and then immediately separate until the end. (It's not a romance, by the way, I'd expected it to be.) And until the end, everyone is miserable.
All in all, I didn't hate it and I can recognize it's well written. But it wasn't a huge winner for me (other than the ending). I did think the narrator (Coleen Marlo) did a good job though.