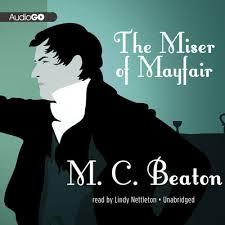 I borrowed an audio copy of The Miser of Mayfiar, by B. C. Beaton from the local library.
Description from Goodreads:
#67 Clarges Street is unlucky. Rental agent Palmer blackmails butler Rainbird and staff to stay for pittance of wages. From Scotland for the London Season, dazzling orphan Fiona sets her sights on haughty Earl of Harrington, and gives the servants first cut of her gambling winnings, insists she is the sole heir to her father Roderick Sinclair, a miser with a failing heart.
Review:
Honestly just not very good. Nothing is even remotely consistent. It was going for a Georgette Heyer feel, I think, but didn't manage it. 
The book starts out well enough, with the beautiful Miss Fiona's introduction. She's so cow-eyed and dumb you can't help but assume it's a sham. And it is. She's a smart, capable card sharp. (Though we're never told how she came to these skills.) Then about mid book it all evaporates and she becomes just as stupid as she pretends. But only as long as it assists the plot. Then, she's suddenly smart, brave and capable again. The villains are cartoonish and the love interest has several unbelievable changes of heart for no apparent reason and goes against social convention without explanation. Also, he almost rapes Fiona, hardly a hero. 
This has a nice new looking cover. So, I borrowed it from the library. But I later learned it was originally written in 1987. Maybe that explains a lot. But even for the late 80s, bad writing is bad writing. To her, credit Lindy Nettleton did as much with the manuscript as a narrator probably could. The narration is just fine. The book is not.