I received a copy of Rose Szabo's We All Fall Down through Bookish First.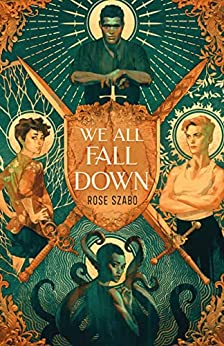 In River City, where magic used to thrive and is now fading, the witches who once ruled the city along with their powerful King have become all but obsolete. The city's crumbling government is now controlled primarily by the new university and teaching hospital, which has grown to take over half of the city.
Moving between the decaying Old City and the ruthless New, four young queer people struggle with the daily hazards of life―work, school, dodging ruthless cops and unscrupulous scientists―not realizing that they have been selected to play in an age-old drama that revives the flow of magic through their world. When a mysterious death rocks their fragile peace, the four are brought into each other's orbits as they uncover a deeper magical conspiracy.

I had a really strange experience reading this book. Whenever I was reading it, I enjoyed it. But as soon as I set it down, I was reluctant to pick it back up again. As a result, it took me an inordinately long time to finish it. And I ended up feeling so-so about it in the same way.
I love the cover; think it's absolutely stunning. And I had so much fun reading the beginning and picking out who each character is. I thought the writing was really good, easy to follow. I thought Szabo played with the idea and ideals of gender in interesting ways and I think they tried to do the same with race (both with actual characters of color and metaphorically with the idea of 'monsters.') I'm just not sure they were as successful in this latter aspect.
However, I also thought the plot slow and ending too vague to be satisfying. So, all in all, not bad, but not an all-out winner either.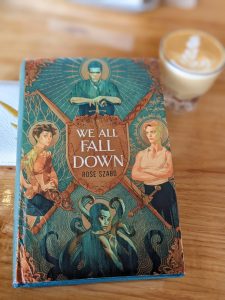 ---
Other Reviews:
ARC Review: We All Fall Down by Rose Szabo
Early Review – We All Fall Down (River City Duology, Book 1) by Rose Szabo (4/5 stars)