I received a copy of Virginia McClain's Sairō's Claw as part of Storytellers On Tour's book tour when it was promoed on Sadie's Spotlight.
Sairō's Claw
by Virginia McClain
Series: Gensokai Kaigai (#1), Chronicles of Gensokai (#3)
Published: May 7, 2021
Genre: Fantasy, Action-Adventure, LGBTQ, Seafaring Adventure Fantasy,
Samurai-inspired Fantasy
Pages: 471
CW: Violence
POSSIBLE ULTIMATE TOUR EXPERIENCE TICKETS: An Unforgettable Sidekick, Represent, Under The Sea, It's All About The Journey, That Ship Has Sailed, Love Actually, The More The Merrier, The Pack Is Back In Town, Blood Suckers, A Villain You Love To Hate
---
Blurb:
An action-adventure fantasy romp featuring sword lesbians, sea battles, and a grumpy wolf spirit.
Torako has done many things to protect the valley that she calls home, but she's never looted a corpse before. So when the katana she steals off the still-cooling body of a bandit turns out to be possessed by a grumpy wolf kami, she can only assume it's because she's somehow angered the spirits. An impression that's only reinforced when she returns home to find her wife abducted and her daughter in hiding. But angry spirits or no, Torako isn't about to let bandits run off with the love of her life, even if it means taking their 3 year old on a rescue mission.
In all Kaiyo's years as Captain of the Wind Serpent she has never once questioned her admiral's orders. So when she receives the command to abduct a civilian scribe with the help of fifteen felons, she registers her objections, but does as she is bid. Yet, as the mission unfolds, Kaiyo finds herself questioning everything from her loyalties to her convictions.
As Torako and Kaiyo's fates cross like dueling blades, their persistence is matched only by their fury, until they uncover a series of truths they may never be ready to accept.
Goodreads / Amazon /
Bookshop (Hardcover) / Bookshop (Paperback)
---
My Review:
I generally enjoyed this and have many good things to say about it. But let me get the grumble out of the way first. This is labeled (Gensokai Kaigai #1). But what it very clearly is is book one of a spin-off of Chronicles of Gensokai. I say "clearly," not only because I've looked it up and know, but because the book felt, almost start to finish, like a spin-off of something else.
I don't actually think this was meant to be hidden knowledge (which I do sometimes think when I find myself in this position), but I mention it because I would not suggest reading this without having read the Chronicles of Gensokai first. It's followable, but I definitely feel like I missed something because I did.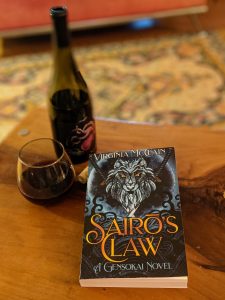 Ok, with that out of the way, lets get to all of the ways I loved this book. McClain can write. I mean really write. The text is clean and easy to read from the first page to the last. The characters are fun and there's quite a lot of subtle humor involved. If I had any talent at drawing I would create fan art of Torako and Tanaka. Plus, the book is just fun and full of a fairly diverse cast.
I did think the child needed to be a little older than 3-years-old to be believable, five maybe. She's too articulate and focused for a 3yo, even an exceptionally talented one. The two arcs of the story are such that the book feels like two separate stories, rather than two parts of the same one. The book basically starts with Kaiyo's character. But Torako, who is the first person named in the blurb (who's name is, in fact, the first word of the blurb) doesn't show up until page 129. That's a long time to go before meeting a main character. The book felt like Kaiyo's book up until that point. Then it felt like Torako's for a while, and then Kaiyos. Both plots were interesting, but they didn't feel like part of the same work until near the very end.
I liked the book, though I was confused at times due to not having read Blade's Edge and Traitor's Hope. I'd be interested in going back and reading them and I think I accidentally own one other unrelated McClain book. Since I now know I like her writing style, I might just move it up the TBR.
---
Author Info:
Virginia McClain is an author who masqueraded as a language teacher for a decade or so. When she's not reading or writing she can generally be found playing outside with her four legged adventure buddy and the tiny human she helped to build from scratch. She enjoys climbing to the top of tall rocks, running through deserts, mountains, and woodlands, and carrying a foldable home on her back whenever she gets a chance. She's also fond of word games, and writing descriptions of herself that are needlessly vague.

Website / Twitter / Instagram / Facebook
---