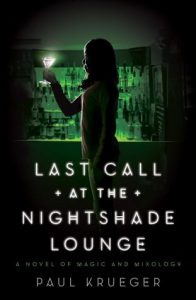 I borrowed a copy of Last Call at the Nightshade Lounge, by Paul Krueger from my local library.
Description from Goodreads:
College grad Bailey Chen has a few demons: no job, no parental support, and a rocky relationship with Zane, the only friend who's around when she moves back home. But when Zane introduces Bailey to his cadre of monster-fighting bartenders, her demons get a lot more literal. Like, soul-sucking hell-beast literal. Soon, it's up to Bailey and the ragtag band of magical mixologists to take on whatever—or whoever—is behind the mysterious rash of gruesome deaths in Chicago, and complete the lost recipes of an ancient tome of cocktail lore.
Review:
This was all right. I suppose if I hadn't gone in with such high hope I wouldn't have been disappointed. As it was, I liked it but thought I'd love it, which as disappointments go, isn't too bad.
There were things I absolutely appreciated. The book is effortlessly diverse. By which I mean there is a diverse cast, but I never felt the author was tokenizing anyone for the diversity cookie. But there was a Chinese American main character (who has to deal with back ground fetishizing and people being insensitive to her culture and identity), a strong and important black female character, a disabled gay man, a foreigner and a trans character. And none of them had tragic back stories, died or turned out to be evil. Yay. Admittedly, there was some stereotyping. Like the Chinese American who just happens to be smart, detail oriented and studious, with a love of flash cards and post-it notes, or the overly effusive Canadian. But this was all mostly a yay.
The writing is clean and easily readable, plus it's quite funny. So, there are some strong positive here. Where my problems started though was with the silly cocktail recipes interspersed at the end of each chapter. They felt gimmicky and really broke up the flow. Then, I just kind of got caught up in the whole cocktails as magic thing. Logistically, I couldn't figure out how this worked. Did it have to be special liquor? It was inferred at one point that it did, but other times they just seemed to grab what was available. Why didn't 'civilian' cocktails contain magic? If all bartenders and baristas are protectors, why didn't anyone know about them. And yes, I understood about oblivium (erasing memories), but such a large population wouldn't stay secret. Then, I couldn't get past the uselessness of the council. No one could really be that stupid and function. And while I could and did manage to suspend my disbelief, it just got harder and harder to do as the book went on. Plus, the romance felt really shoe-horned in there.
So, while this was an ok read, I didn't love it.