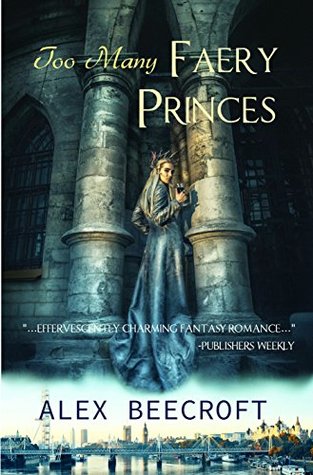 I picked up a copy of Too Many Faery Princes (by Alex Beecroft) on Amazon.
Description from Goodreads:
Kjartan's family is royally dysfunctional. He'd prefer to ignore the lot of them, but can't since his father has set him and his brothers on a quest to win a throne Kjartan doesn't even want. Worse, his younger brother resorts to murder and forces Kjartan to teleport—without looking where he's going.
Art gallery worker Joel Wilson's day has gone from hopeless, to hopeful, then straight to hell. One minute he's sure his boss has found a way to save the floundering business, the next he's scrambling to sell everything to pay off a loan shark. If anyone needs a fairy godmother right now, it's Joel. What he gets is a fugitive elven prince in a trash bin.
They'll both have to make the best of it, because fairy tales run roughshod over reluctant heroes. Particularly when there aren't enough happy endings to go around.
Review:
I thought this was a very sweet, low heat MM romance. I appreciated the diversity in the small cast and the happy for now ending. The writing was perfectly serviceable, but there wasn't anything particularly stand-out in the plot (other than it being about a prince, instead of a princess). It was pretty much exactly what you would expect it to be, nothing more/nothing less. There's not much more to say on the matter.