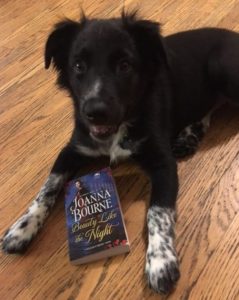 A friend sent me a copy of Beauty Like the Night, by Joanna Bourne. [You know who you are and thank you.] As a bonus, here's a picture of my pup Moto, four months old.
Description from Goodreads:
Severine de Cabrillac, orphan of the French revolution and sometime British intelligence agent, has tried to leave spying behind her. Now she devotes herself to investigating crimes in London and finding justice for the wrongly accused.
Raoul Deverney, an enigmatic half-Spaniard with enough secrets to earn even a spy's respect, is at her door demanding help. She's the only one who can find the killer of his long-estranged wife and rescue her missing fourteen-year-old daughter.
Severine reluctantly agrees to aid him, even though she knows the growing attraction between them makes it more than unwise. Their desperate search for the girl unleashes treason and murder. . . and offers a last chance for two strong, wounded people to find love.
Reivew:
I believe this is my first Joanna Bourne novel. I generally avoid historical novels of this ilk, especially if they have a romantic component. I so often can't stomach the gender politics in them. But this one came to me along with a friend's recommendation. So, I gave it a try and was pleasantly surprised. It's the sort of book in which the hero respectfully things like this:
One did not, he suspected, write poems to Severine's eyebrows. One slew dragons for her, or stood slightly to the left, holding her spare lance and buckler, while she did the slaying.
This is a male/female relationship I can appreciate. What's more, the sort of man who will allow a woman that power is the sort I want to read about, and the woman who inspires such thoughts in a heroine I'm interested in getting to know.
I did find the language too purple and flowery at times, especially around the romance/sex. And as much as I loved the sarcasm and repartee, it did go overboard at times, making everyone sound quite similar. All in all, however, if all of Bourne's work is in this vein, I'm up for a lot more.