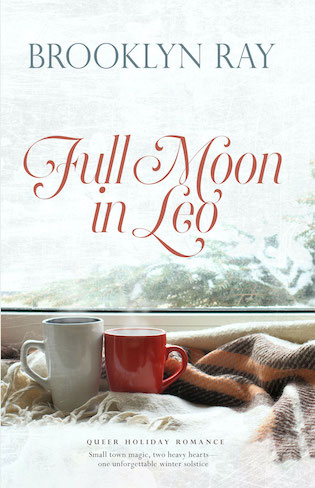 I won a copy of Brooklyn Ray's Full Moon in Leo over at Sadie's Spotlight.

Small-town magic, two heavy hearts—one unforgettable winter solstice
Cole Morrison left Jewel's snow-covered fir trees ten years ago. But after a disastrous family Thanksgiving, Jewel seems like the only place left to go. When a run-in with a gorgeous stranger leaves him with debt to pay, Cole's escape from his past turns out to be much more than a lonely Christmas vacation.
Jesse Carroway, the local Jewel witch, has been running his family's successful, small-town Apothecary ever since his grandmother passed away. When Cole stumbles into his shop and accidentally wrecks a good portion of his inventory, Jesse does the only thing he can possibly think of—offers Cole a job and himself some help for the upcoming holiday rush.
Cole's clumsy with candles and doesn't trust easily, but soon Jesse gets a peek at the guy behind his bad-boy reputation. As the nights lengthen toward Yule, Jesse wonders if magic is to blame or if Cole might've fallen into his life for a reason…

I very much enjoyed this. It's very sweet. I liked the characters, the easy queerness of it, the redemptive theme, and the writing. The prose is a tad on the purple side. I'd say up there with Alexis Hall or T. J. Klune. But I'm fairly tolerant of that, as I actually kind of like prose a little purple. (It's pretty, sue me.) There are a couple easy coincidences that move the plot along. Jewel is the most organic-friendly, boutique-filled, socially diverse small town I've come across in a while. And I thought all the awkwardness of new relationships, the complexities of identities and sexualities, etc were handled a little too perfectly by all involved. No-one ever misstepped or misspoke. They said the perfect thing for the other character perfectly the first time, every-time. But then the book does hinge on…well, you know…magic. So, that's probably forgivable. All in all, this was the first Brooklyn Ray book I've read, but I don't think it'll be the last.