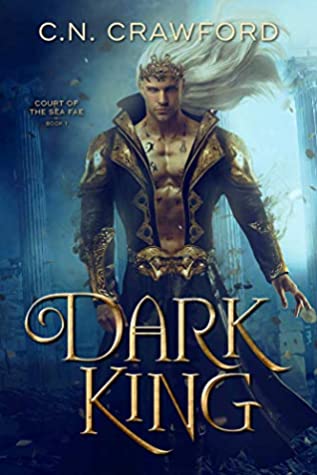 I picked up a copy of C.N. Crawford's Dark King (Court of the Sea Fae, #1) when it was listed as a freebie on Amazon, mostly based on the cover alone.

A snarky fae, a sexy king, and forbidden desire deep as the sea.
Once, I was a fae princess with sea-magic at my fingertips. Now? I'm a hunted supernatural in a squalid shop, stripped of my power. My only comforts are stale cookies, Elvis records, and my hula-hoop. Until a lethally sexy fae king arrives and rips even those away.
After the brutal king throws me in prison, I strike a bargain with him: my freedom in exchange for helping him find a magic blade. What Lyr doesn't know is that the blade might restore my stolen magic.
But as we journey, the gorgeous jerk is starting to make me feel things I've never felt. When Lyr touches me, desire ignites. I see raging passion in his eyes, too. If I give in, I risk losing my chance at reclaiming my power. Even worse… I could be forfeiting my life.

I was surprisingly amused by this. Yes, it's not particularly deep and a little cliched in the "protector of abused women" department. But I also liked Aenor's snarkiness and refusal to do as told. And Lyr was plenty sexy for a fae king, if a little cardboard. I had a hard time suspending my disbelief that a whole kingdom just up and believed an implausible lie for over a century and a half and no one ever mentioned it to Aenor. Seems exceedingly unlikely. But it didn't ruin my enjoyment any. I thought the brothers were funny, but a little over the top. All in all, a book that's not topping my favorites list but that kept me entertained enough that I'd be happy to read more.