I won an ebook copy of Nick Askew's Ensoulment through Goodreads.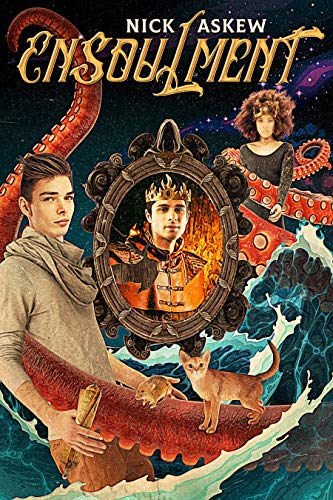 Every being is infused with a soul upon their creation, but what would happen if a soul was split?
Running from his troubled past, Andrew arrives in LA, greeted by his loving boyfriend and headed for a night of celebration. When Jack gets down on one knee, the last thing either of them expects is Andrew's sudden death, a tragedy that sets in motion a chain of events that will alter the fabric of reality itself.
As death thrusts him into a strange world full of outlandish and dangerous inhabitants, Andrew embarks upon a mission to reunite a princess with her long-lost prince. As familiar as it feels, he soon learns shadowy forces are working against him, and nothing in this land is as it appears. Andrew's in a different kind of fairy tale, and he must seek out the other half of his soul if he ever hopes to find his way home again.

Just yesterday I said I was going to make a concerted effort to be more tactful in my reviews, even negative ones. And here, the very first review I have to write after, I find I have very little positive to say, even when trying.
I'll be honest. I found this immensely dissatisfying. It took almost a quarter of the book to even figure out what was going on (far too long) and, even then I often barely kept up with the erratic plot and perspective shifts. It was so dedicated to being Bizzaro that the plot itself suffered for it.
Then there is the writing. Some of it is just wrong in an editorial sense, like, "They were cold, tried and looking for any excuse…" But there are quite a lot of sentences that might or might not be wrong, but are just off, odd in a way that pulls you out to the story. Here are a few example.
"The ache in his heart, a pain he worked so hard to rid himself of, took bloom once again."
—Do things take bloom? They take root, take flight. But do they take bloom…or just bloom?
"I left my wife in bed and crept down the hall to get a better listen."
—You get a better look, does it work the same way for hearing?
"There was energy to his veracity, almost to the fact she wasn't sure even he knew the reasons he did the things he did."
—To the fact….or should it be to the degree?
"We were being precatious."
—You have caution, you are cautious, you take precautions…Merrian Webber says precautious is a word, but man is it awkward in that sentence. Do we actually use it that way?
"He hoped repeating the name Lily would somehow convert the bird to find her…"
—Are we actually converting the bird—it's possible in this odd book—or do we mean convince?
"As she attempted to lift her head, the dull pain retreated to sharp."
—Does dull pain retreat to sharp, or should sharp retreat to dull?
You see what I mean, a lot of it is just a little…well, off. Which might be an authorial choice in a book so very dedicated to it's own weirdness, but I rather think not. Then the whole thing ends with so little conclusion that I feel it better referred to as a fizzle than a bang.
All in all, I think the author had an interesting idea. The anthropomorphic animals were interesting. I liked Andrew to the degree I could, considering we get to know so little of him. But I'm not interested in reading more of this series.