Authot Kat Sinclair messaged me on Goodreads and asked me to review her book Peacekeepers. She then sent me a copy of for review through Book Siren.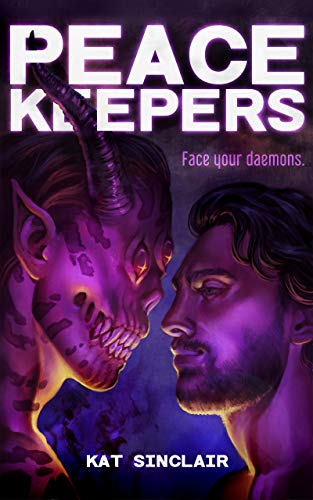 In a desperate attempt to escape his arduous past, Arno, a gifted daemon hunter from Italy, moves to the bright city of San Francisco. At the new and progressive Peacekeeper HQ, he plunges himself into this dangerous and controversial line of work. Fighting pesky Shades, malicious Tricksters, and tempting Tenures is his normal 9 to 5.
However, Arno soon finds that old fears and habits still dog his steps, even from a whole continent away. A larger threat is also brewing within The Golden City, one that jeopardizes the organization, his friends—and even humanity. He'll have to turn to the unlikeliest of allies to help them, starting with the curious daemon haunting his apartment.


Just about the time I started Peacekeepers, I saw a Johannes T. Evans tweet about monster romances.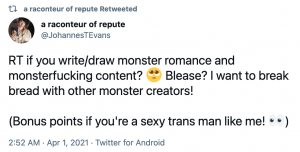 It caught my attention because Monster Romance is exactly what I thought Peacekeepers was going to be (is, of sorts) and I don't know if I'd have recognized Monster Romance as an actual (if unofficial) sub-genre if I'd not seen the tweet at such an opportune moment.
Sure, there are romances that have monsters in them, but had we readers separated them out from other PNRs and named them Monster Romances? Makes sense, honestly, but I don't know that I'd seen the actual name (or maybe just not recently enough to remember). If I'd not seen the tweet and the whole accompanying Monster May Challenge, I wouldn't have had a metaphorical shelf to put Peacekeepers on. But I think I'd have still enjoyed it.
Yes, the book is on the slow side, maybe a little longer than needed to tell it's story. I noticed the odd editing hiccup. There is one out of place non-Arno POV that I found notably jarring, since it's the only one in the book and shows up at 76%. And there is the occasional turn of phrase that makes me think English might not be the author's first language. But these were pretty few and far between. For the most part, this is a slick, easily readable, interesting book.
The romance is a subplot (and I mean SUBplot). It is only a very small part of the larger story and it's mostly based on instinctual attraction. So, it's not overly developed. But it does touch on some heavy subjects and is very sweet. I certainly liked Lurke and Arno.
I thought the alcoholism and addiction aspect of the book was especially well done and I absolutely appreciated how much diversity the cast represents. Plus, look at that cover! All in all, a winner for me.