Alina Jacob's Frosting Her Christmas Cookies was featured on Sadie's Spotlight last November. I was given a copy of the book as part of the promotional material. However, I didn't do any holiday reading last year. So, I didn't get around to it until this year's Christmas Reading Challenge.

Dear Santa, I do not want a Frost brother for Christmas.
In fact I do not want anything for Christmas—no annoying Christmas carols, no holiday family drama, and no last-minute presents.
And I certainly don't want to be a bachelorette in The Great Christmas Bake-Off. Yes in the spirit of holiday commercialism, the bake-off is also a date-off and Jonathan Frost is the prize.
I should be hiding away with wine and snacks while waiting for Christmas to end. Instead I'm wearing a reindeer mascot costume and pretending I'm oh-so-excited to meet New York City's most eligible billionaire bachelor!!! Just look at those blue eyes and six-foot-five tall frame!!! Don't you want to take him home for the holidays?!?!!
Barf.
Unlike the other bachelorettes, I refused to debase myself and stroke some billionaire's ego.
Instead, I threw a candy-cane dildo at his stupidly handsome face.
Then I laughed when he yelled at me.
Of course Jonathan couldn't take the hint. He came around offering to put a little frosting on my Christmas cookies.
I attempted to shank him with a spatula.
He got offended and said that as a judge on The Great Christmas Bake-Off, he was just trying to help.
Sure…
Not that I'm looking for holiday romance.
Christmas is already a stressful time of the year without adding a billionaire in the mix.
Between dodging bake-off sabotaging cousins, applying for a long-shot prestigious museum internship, and trying to survive being broke in Manhattan, I'm up to my black lipstick in my own special nightmare before Christmas.
And it's making me wound tighter than a nutcracker.
So when Jonathan offers to put some frosting on my cookies—and a few other ornament shaped parts—his washboard abs and sexy smirk start to seem like the perfect stress relief.
Especially when he offers himself all wrapped up in a bow.
So no, dear Santa, I do not want Jonathan Frost, but I won't say no to his Christmas package!

I am starkly divided on how I feel about this book. On one hand, I really enjoyed it. I read a good bit of it with a stupid smile on my face and laughed so often that my husband was finally like, "What?" The writing is sharp and witty, and the editing is clean.
On the other hand, I thought it got too ridiculous at the end and was far too long. I started skimming past all the cooking descriptions and eventually even the sex scenes, just to move everything along. Plus, there is quite a lot of repetition. Most chapters start with yet another reiteration of either Morticia or Jonathan's quandary. I promise I hadn't forgotten since the last chapter.
Plus, I just couldn't quite overlook the irony of Jacobs writing a strong Fuck the Patriarchy, Feminism Rawr female character into a story in which she wins the coveted Mrs. position with her traditionally feminine skills and at the expense and narrative degradation of the other female contestants. So, the Morticia may be all Feminism Rawr, but the book sure isn't (because of the representation of women, not the baking). I have to wonder if Jacobs was leaning into that irony or painfully unaware of it.
Mostly, however, I enjoyed it, even if I wish it had been a hundred pages shorter.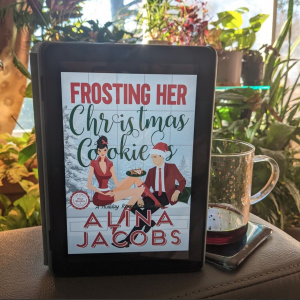 ---
Other Reviews:
Review: Frosting Her Christmas Cookies by Alina Jacobs
Frosting Her Christmas Cookies : A Holiday Romantic Comedy (Frost Brothers Book 3) by Alina Jacobs
---
Come back tomorrow. I'll be reviewing Bittersweets Christmas, by Suzanne Jenkins and Christmasly Obedient, by Julia Kent.