I initially became aware of Jayce Carter's Grave Concerns series when it was promoed on Sadie's Spotlight (several times, in fact). I liked the look of book one (Grave Robbing and other Hobbies) and had been given a copy as part of one of the tours. So, I gave it a read. I then requested a review copy of book two (Hell Raising and Other Pastimes). But despite a prompt response to my email (she answered the very next morning), I'd already bought it and finished it by that time. I know, I can he hella impatient sometimes.
---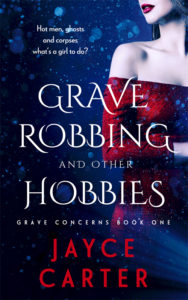 Description from Goodreads:
Abandoned at three—whose parents want a kid who sees ghosts?—I learned the world is quick to punish misfits. I try my best to be a normal, boring human, but the call of the supernatural just won't be ignored.
When a stranger shows up on my doorstep in the middle of the night, it's no sexy tryst. Instead, I'm off to the graveyard, digging up the corpse of a murder victim at the demand of the local vampire coven—and that small felony is just the start.
The spirit of the woman has gone missing—something that shouldn't be possible—and everyone is looking to me for answers. There's Kase, a vampire who's both terrifying and secretive. Grant, a mage with a bad attitude and a lot of power. Troy, the possessive werewolf-detective next door and Hunter, a mysterious bad boy who isn't even close to human.
It's a race not just against time but against everything to figure out where the spirits are going, who's behind it and if I can trust the men who now share my bed.
And all because of a little grave robbing…


I enjoyed the heck out of this. Sure, you just have to suspend your disbelief and roll with it. But that can be fun sometimes too. I liked Eva as a main character, even if she's a little too mouthy for her own good. (By which I mean she's suicidally mouthy, unable to keep quite even when her life is on the line. I like a snarky heroine, but I also appreciate one with at least a little self-preservation.) I liked each of the men forming her harem. But I thought they all formed up and accepted the situation with too much ease. In fact, they were all traveling together so suddenly I went, "when did this happen." And, FYI, I would call this fairly low heat, since there is actually very little sex in it.
I loved that Eva is 35yo, a bit older than your average heroine. But didn't reall y care for the lack of other women in the book. There are literally only 2 and both are cliches. There's the crone and the jealous femme fatale.
I did feel like there were several times Eva knew things she hadn't been told, and wondering how she knew pulled me from the narrative.  And the editing could honestly do with another pass. But I look forward to reading book 2 and seeing how this little found-family forms up and grows.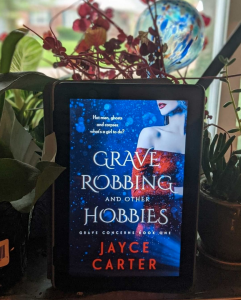 ---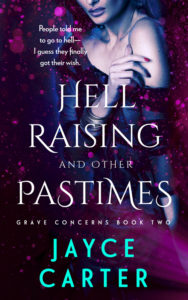 Description from Goodreds:
People have told me to go to hell—I guess they finally got their wish.
I've finally accepted the fact that I might not be entirely human, but still life doesn't give me a break. Instead, I'm sucked into hell at Lucifer's demand, and realize death is even more complicated than my life was.
I have to survive hell—where everything wants to kill me—so I can confront the devil himself. My love life is even more complex, though. Troy is terrified of his werewolf side hurting me, Kase and Grant are lying to me and Hunter is keeping his own secrets. I know better than to trust anyone, especially the men who have taken over my life.
Get to Lucifer's Court, find out the truth about the missing spirits, figure out exactly what I am and try not to die along the way. Oh, and don't fall in love with the men who will for sure break my heart and possibly get me killed.
Easy enough, right?


This was a fun continuation of the Grave Concerns series. I'm still liking Eva and her guys. (Notice I said still liking, not liked, because while the book comes to a natural stopping point, the villain has yet to truly be defeated and the series is obviously not over, even if there aren't yet any more books.) Speaking of villains, I did find them and their motivation super cliched. But to explain why would be a spoiler.
This book is more steamy than the last, which is nice. But on a point of personal preference, I hate the word cunt in my sex scenes and Carter uses it almost exclusively. But for the most part, I like Eva and her guys together and there was a concerted effort to give them all some backstory. Almost exclusively tragic backstories, which is a little predictable, but whatever. I liked them.
Again, the editing could be touched up, and there were moments in which Eva knew things I didn't know how or said someone said something that isn't actually in the narrative. Here's an example, "His words came back to me, when he'd said his true body resembled a dragon…" I read these books back to back, Hunter never says his body resembles a dragon in either book. These moments yanked me right out of the narrative.
For the most part, however, I'm still enjoying the sarcasm and easy flow of the story. I'll be looking for a book three whenever it's released.