I received a pre-publication ARC of Jayce Carter's Saving the World and Other Bad Ideas through the Totally Entwined Group. This is book three of the Grave Concerns series. You can find my review of book one and two here.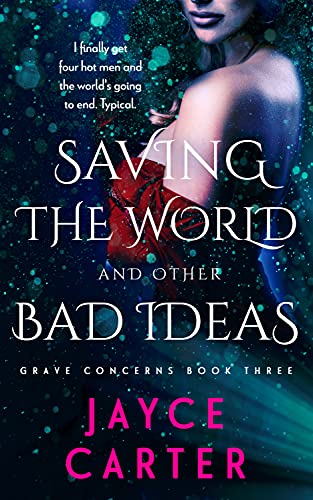 I finally get four hot men and the world's going to end. Typical.
I've gone to hell, I've faced off against the devil and I've lost someone who meant the world to me. That's usually the end of the story, but it seems the universe isn't quite done with me yet.
Lilith is still out there, the end of the world is getting closer and only I can hope to stop it. The more I discover, the deeper I dig into the mystery of Lilith's past and my own powers, the less sure I am that I can actually defeat her.
Still by my side are the four men I've fallen hopelessly in love with—leave it to me to get my romantic life in order just as the world falls apart. With all the questions, there are only two things I know for certain—I will face Lilith, and only one of us will walk away from it.

I thought this wrapped the whole series up marvelously. I liked that the traumatic past of each male got some attention and we see the group really gelling nicely. I love the way Ava was so protective of them and was just adored and valued by each as they developed a respect for one another (even if there were still contentions). And, of course, the sex was hot.
As throughout the series, I still feel we never get to truly know the men beyond their particular caricatures. This is the stoic one, this is the joker, this is the irreverent one, this is the staid one, etc. And I understand the books would need to be significantly longer to allow for this. But since I liked each of them, I did miss getting the chance to really get to know them.
All in all, reverse harem isn't my favorite erotic genre. But I enjoyed this series quite a bit.