I borrowed a copy of Sara Snow's Luna Rising through Amazon's Prime Reading. I've been avoiding new adult and young adult books lately. So, I'm not entirely sure why I borrowed this. But I assume I had a reason at the time. *shrug*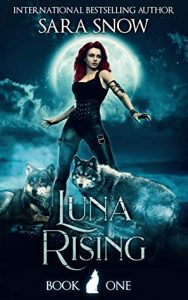 Xavier Blackwood is the man every girl at my college dreams about at night, myself included, but I'd never let anyone know that.
Standing at 6'8 with steel grey eyes, he's a walking dream, but he's also a world-renowned jerk.
Who would have thought that one night, after dragging myself home after doing double shifts at the diner, I'd be jumped by three men…only to have Xavier come to my rescue.
Oh yes, Xavier bloody Blackwood saved my life…but the thing I saw, the CREATURE that ripped those men to shreds wasn't the Xavier everyone knows.
He wasn't human…
He was a wolf, a demon, a creature from myths, and it was the most amazing thing I've ever seen until he attacked me too and knocked me out.
Humans that learn about the existence of werewolves have to die.
…There are NO exceptions.
The Werewolf Xavier saved me, but now I am condemned to death
To make things worse, both Xavier and Axel claim I am their mate
…this can't be good.


You know, when it comes to Fated Mates shifter books we've read it all before. There is nothing new under the sun. But seeing the combination of circumstances (even familiar ones) the author puts the mates in and getting to know them is what makes the trope fun to read. And this is where Snow fails with Luna Rising. We don't get any of that. There is almost no world-building. We're given very little meat plot-wise. We only get to know Ruby a little bit (and only because so much of the book is her navel gazing…or waking up, she sleeps A LOT), Xavier almost none, and Axel absolutely none at all. And then the book ends before anything really begins. This almost feels more like and extended outline than an actual fleshed out book. There isn't even enough her to feel connected to anything or anyone. The writing is pedestrian but fine. I don't think I'll bother with the rest of the series though. But if anyone wants a taste of the series, there is apparently a prequel available here.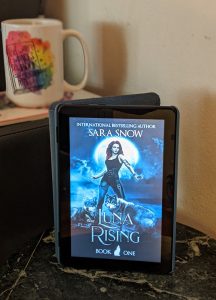 ---
Other Reviews: