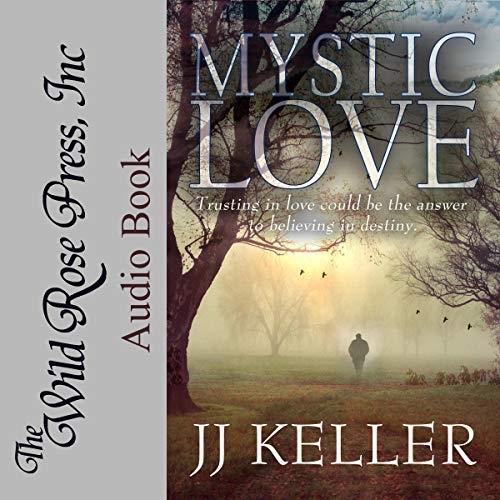 I picked up a free Audible code for a copy for Mystic Love, by JJ Keller, probably from Free Audiobook Codes.

Ericka Gilmore dabbles in life and death when she tries to conjure a ghost lover. But when flesh and blood, Joe Reeves appears on her doorstep in the midst of a storm, she has to rethink her destiny.

A car accident left the former cop with the ability to foresee death. No longer willing to watch people he cares about die, Joe goes in search of a shaman to remove his "gift". His remedy until then is to avoid all relationships. But like a lightning strike, he experiences a strong connection with Ericka. A nearby mystical ley line could be Joe's solution if he and Ericka combine their gifts. But her secret past and his fear of seeing her death keep them at odds.

I thought this was OK, sweet even, but still not a huge winner for me. The reason is that, as satisfying as seeing two likeable characters fall in love is, I can't help but notice that they both find and accept their destiny. His is to accept his premonitions of death and serve fate by saving lives; her's is to become his wife. The two are presented as equal. So, he gets a whole active destiny and she gets to…what, not become an old maid. We could be generous and say 'support him.' But that's still only a supporting role, which is so often the crumb women are offered and told it's a whole piece of toast. Now, I'm well aware that our culture preaches that becoming a wife is a goal in itself, but I hate when it's a woman's only goal, especially one who is otherwise smart and accomplished, as the heroine here is.
You know, there's another complaint I've made dozens and dozens of times in my reviews. it's when authors don't label parts of a series as such. This book is the sequel to The Ghost Inside (as far as I can tell)  and it's not labeled as such anywhere that I've yet to see. And it matters, because despite not being labeled, I so felt the lack of history that I went and read the blurbs of all the author's books until I found the one that comes before this book, 100% certain there would be one. So, obviously I felt the lack of a first book. It is readable alone, but you will know there is a book before it. I sure did.
All in all, not a bad book. The writing is perfectly readable and the narrator (Eric J. McAnallen) did a fine job. But not a winner for me personally. It did get me through a whole day of stripping wallpaper though, so there is that to appreciate.