I borrowed an audio copy of T. Kingfisher's Paladin's Grace through Hoopla. It was narrated by Joel Richards.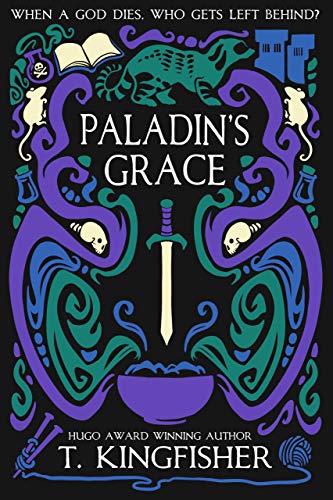 Stephen's god died on the longest day of the year…
Three years later, Stephen is a broken paladin, living only for the chance to be useful before he dies. But all that changes when he encounters a fugitive named Grace in an alley and witnesses an assassination attempt gone wrong. Now the pair must navigate a web of treachery, beset on all sides by spies and poisoners, while a cryptic killer stalks one step behind…

I was initially befuddled when I started listening to this book. Not because of anything the book did or didn't do, but because I had confused which recommendation list I got the title from. I thought it was martial women defending not-fighter men. But that's very clearly not the case since Stephen is a paladin and Grace a perfumer. Eventually I realized it was fantasy with older hero/heroines, and after that, the book and I got on like a house on fire.
I adored Stephen (38) and Grace (32, I think). They are both emotional basket cases trying to do their best in a world not ready for them. I liked that world a lot and the unvarnished, but sarcastic kindness of The Rats, and the side characters were all a joy in and of themselves.
The writing is marvelous and flatly funny in an often dry way. I have to compliment the narrator, Joel Richards, for bringing it to life in the audio version too. All in all, I went right back to Hoopla and rented another Kingfisher book because I'm a new fan.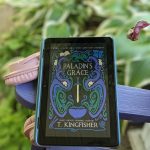 ---
Other Reviews:
Review: Paladin's Grace by T. Kingfisher