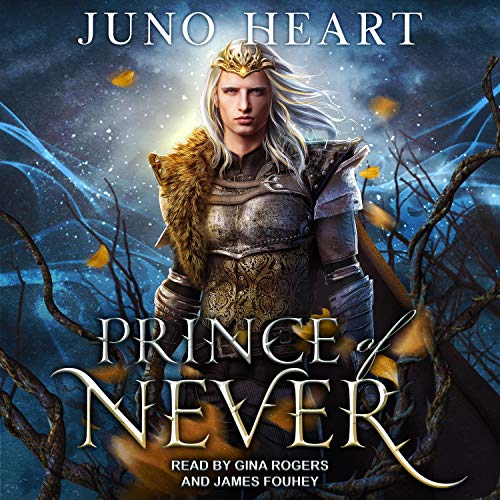 I won an Audio copy of Juno Heart's Prince of Never from the author.

A fae prince with a poisoned heart. A mortal girl with a magical voice. Neither one believes in fairy tales.
City waitress Lara has the voice of an angel and no idea she's marked as the fated mate of a silver-eyed royal from another realm. When she falls into Faery and meets an obnoxious huntsman who mistakes her for a troll, she's amazed to discover he's the cursed Prince of Air in disguise. Ever's mother, the queen, is less than impressed. The opposing court of techno-loving Unseelie wants her as their very own pet. And an evil air mage wishes her dead.
Held captive by Elemental fae in the Land of Five, she's certainly hit rock bottom.
But songs wield power, and Lara happens to be a true diva. Now if only she can use her newfound magical skill to make the Prince of Never a little less attractive. The first thing she wants is to find a way back home, and the last is to fall in love.
Ever and Lara think they know what they want, but destiny and an age-old curse have other ideas.
Book 1, a standalone with a HEA in the Y.A. interconnected series, each one starring a different cruel prince and his human fated mate.
For lovers of Faery. Above all else, romance rules.

Not bad at all, but also not anything too new and exciting. I liked Laura. I liked that the author showed her thought processes. Rather than having her just talk endlessly, for example, we know she's made a conscious decision to make a point to irritate someone by talking. I liked Ever and enjoyed that the author did a good job showing his feelings change and his own confusion with them. The writing is clean and easy to listen to, and the narrators both did a good job.
However, I'm bummed that the villain and the plot hinge on the cliched spurned woman. *yawn* Laura's personality mirrors so many other female YA character—kind and giving above all else—so, seen a hundred times before. And Laura seemed able to mouth off to authority without consequence, an irritating trait in YA heroines. Or rather, not in the heroines themselves, but of the authors and writings of such heroines. I always notice when heroines are allowed behaviors no one else is and want to know why. Especially when the hero then loves that same trait in them. Chicken and egg, anyone?
All in all, I enjoyed it and I'd be willing to read another of Heart's books.