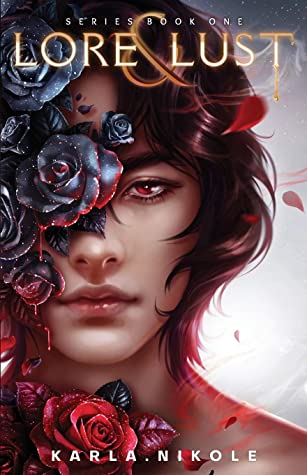 I purchased a paperback copy of Lore & Lust directly from the author, Karla Nikole, after seeing an Instagram post about having some for sale.

            
The slow burn vampire romance you didn't know you needed…
Haruka Hirano is alive, but not quite living. Surviving but not thriving. As an elite purebred vampire in the twenty-first century, he is broken. Content in his subpar existence.
He is done with life. But life is not finished with him.
When he receives a formal request to oversee an antiquated vampire ritual at Hertsmonceux Castle, Haruka grudgingly leaves his home to meet another purebred. The vampire is not what he expects. Truly, he is unlike any vampire Haruka has ever encountered: cautious, innocent and with the warmth and gravitational pull of the sun.
Lore and Lust is an exploration of cultures, contemporary society and romance. It puts a whimsical spin on traditional vampire lore, while also creating a vivid new world where love is love. No questions asked.

I'm not sure how to rate this one. It's a perfectly fine book. If I had to choose one adjective, I'd say it's nice. It's a nice book about nice people (vampires) getting together to form a nice, supportive relationship amongst their nice families/friends. The only thing missing is the inclusion of nice little babies.
And there is nothing wrong with any of that. It is a lovely, squishy, feel-good, slow-burn romance that was actually great as an election night distraction. The problem with all that nice, squishy, feel-goodness though, is that it leaves little room for tension, which combined with the third person present tense writing leaves the reader feeling distant and slightly bored. But more importantly, it isn't what that absolutely stunning, but honestly dark and brooding cover led me to expect. In fact, I don't feel it represents the tone of the book at all, as much as I love it. And I do; I bought the book on the strength of my love for it alone. So, how do you rate a book that's perfectly lovely, but misrepresents itself? I don't know. Right down the middle, I guess.
Outside of the mismatched tone and cover I only had one real complaint, the lack of significant female characters. There are only three females in the book, all relatively minor side characters. Two of them are grasping and manipulative and the third is dangerously close to being the cliched sassy, Black BFF (and I'd bet the love interest/heroine of a future book). Though Nino's Italian, so maybe that stereotype is somewhat ameliorated.
The editing is clean. There's one point when Hau is sitting on the Tatami but gets up from the couch. But other than that, which might have been a misunderstanding on my part, I didn't notice anything about the editing. Which is what you want in editing, right? And the mythos around vampires is a fresh one, which isn't easy in a genre as well-trod as sexy vampires.
All in all, the book wasn't what I expected, but also pointedly wasn't bad. I'd certainly read more of Nikole's writing and of the Lore & Lust series.