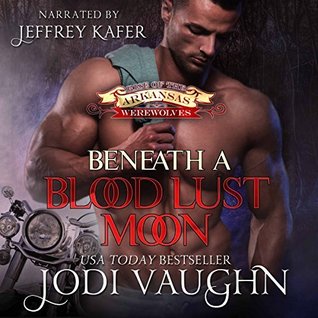 I received and audible credit for a copy of Beneath a Blood Lust Moon, by Jodi Vaughn.
Description from Goodreads:
Werewolf Braxton Devereaux would do anything to protect his mother from his abusive father, even commit murder. Or so everyone assumes. Pack Law justice is swift and unforgiving when it comes to murder, and soon werewolf Assassins are out to balance the scales – Braxton's life for his father's. On the run, Braxton flees on his Harley to the anti-extradition state of Missouri, but before he crosses the border, he is felled by an Assassin's bullet, and an unsuspecting blonde. Kate Wolph is in a legal battle to avoid losing her Bed and Breakfast to foreclosure. The last thing she needs is an injured wolf to care for, let alone a gorgeous man with blank eyes and a deadly smile. But the supernatural world of danger that surrounds him threatens to swallow more than just her life. Can Braxton track down the real killer before the Assassins find him, or will Pack Justice cost him not only his life but the life of the only woman he's ever loved?
Review:
This is a perfectly serviceable werewolf-finds-his-mate story. It fulfilled it's purpose and the writing is pretty solid. Unfortunately for me, it contained a number of my absolute most hated PNR elements that adversely effected my enjoyment of it.
For example, I cannot express how much I hate when characters (especially female characters) can't tell dream for reality and use the "this must be a dream" as an excuse to bypass their inhibitions. I think it's weak storytelling. As if the author couldn't come up with a feasible reason to give the woman sexual agency (and/or time to develop feelings for the love interest), except to remove her from reality. What's more, unless the author gives me a reason (mental illness, drugs, knock to the head, etc) for why a woman can't tell fantasy from reality, I have to question the character's intelligence and I don't want vapid, stupid heroines.
I dislike that the pet name Baby was dropped into almost all the sex scenes, from the very beginning. It irks me when a female character is supposed to be sexually active, but have never had an orgasm or even experimented at all (so, a symbolic virgin). At least one fairly significant character was introduced and then dropped from the story. I noticed at least one inconsistency in the plot. It's never explained why an execution order went out so fast without anyone ever verifying he murdered anyone or even trying. (As in it's never even questioned by authority.) The heroine ran off in a cliched TSTL manner. The authors' were seriously over the top, inappropriate (if male characters did 1/2 of what they did we'd be calling for blood), and felt self-indulgent on the actual author's part. And the two villains were paper thin, one not even being part of the plot at all really and the second's motivation being murky.
But those are personal pet peeves that might not bother me so bad if they weren't already on my radar as annoying elements. Others may not mind them at all. Similarly, Jeffery Kafer did a great job with the narration. But I would have SO preferred a female narrator for this book. (Again, personal opinion)
All in all, not bad. Just maybe not 100% for me. I didn't dislike it. I just also spent an above average amount of time going, "Oh, and there is another annoying inclusion." It did stand-alone fairly well. I hadn't read book one in the series.