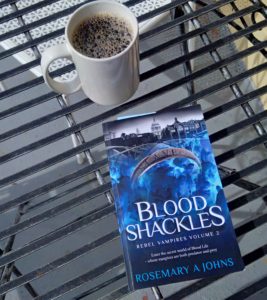 I won a signed copy of Blood Shackles, by Rosemary A. Johns through Goodreads.
Description:
What happens when SPARTACUS meets VAMPIRES? Except the vampires are the slaves… In a divided paranormal London, Light is the rebel vampire of the Blood Lifer world, with a talent for remembering things. And a Triton motorbike. Since Victorian times he's hidden in the shadows. But not now. Not since someone hunted and enslaved him. When he's bought by his alluring Mistress, Light fights to escape. Even if he can't escape their love. But if he doesn't, he'll never solve the conspiracy behind the Blood Club…
WELCOME TO THE BLOOD CLUB
Who are these ruthless humans? Who's their brutal leader? And who betrayed the secret of the Blood Lifer world?
WHERE THE PREDATORS
London, Primrose Hill. Grayse is the commanding slaver's daughter. The enemy. She buys Light, like he's a pair of designer shoes. So why does Light feel so drawn to her? Ashamed, he battles with his desire, even as he burns for her. Can a slave truly love his Mistress? Especially when his family is still in chains. Will he risk everything – even his new love – to save them?
BECOME THE PREY
Does a chilling conspiracy lie behind it all? A stunning revelation leads Light to an inconceivable truth. To the dark heart of the Blood Club. If he can face his worst terrors, he can save his family and his whole species from slavery.
Maybe he can even save himself.
Review:
Honestly better than I expected. I always approach anything involving slavery, especially romance, very warily. So many ways to go wrong. But this managed not to glorify it or the abuse the slaves endure, physically, mentally and sexually. It was a little glossed over, still uncomfortable though, but not made out to be anything but horrible. This is not something I enjoy and I struggled getting through the book since a decent amount of it is dedicated to man talking about what it's like to be broken.
I even eventually got used to the journaling format it is written it. But I could not stand the cant the characters spoke. Nut for head, neb for nose, lobehole for ear, mush for mouth, etc, etc, etc, etc. OMG it was endless and annoying. Plus, despite being set in modern London and one of the characters growing up in Boston, they all spoke it. Even the rich people you'd have expected to be well educated.
I also found it a little odd how many opportunities vampires had to kill their captors, even when they weren't mentally broken, but instead just fought them. They pushed them or broke a bone or talked when they were perfectly capable of killing them and moving on. Especially when Light is made out to be an exceptional fighter.
The writing is very good and the editing fine, maybe not perfect but fine. I don't know that I'd be interested in more of this series, but I'd be perfectly willing to read more of Johns' writing. I found a lot of it thought provoking, even if disconcerting.