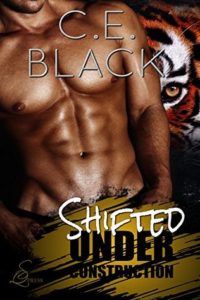 I snagged a copy of C. E. Black's Shifted Under Construction on Amazon when it was free.
Description from Goodreads:
Bedroom eyes and rock hard abs make for yummy eye candy, but Harper Mattox knows a bad boy when she sees him. She's been there, done that, and refuses to buy the T-shirt. The scar was enough of a souvenir.
When Harper agrees to be the temporary secretary at H&V Construction as a favor to her best friends' husband, Adam Hughes, she thought her days would be spent behind the desk, organizing until her heart was content. She had no idea she'd have to put up with the walking sex-on-a-stick Christian Viera. AKA, her other boss. No matter how many times she turns him down, he just oozes more charm in her direction, weakening her knees, as well as her resolve. And it's only her first day!
When Harper's life is threatened, Chris is ready and willing to protect her, showing off an animalistic side she never knew existed. She's known violence in her past and has no room for it in her life now. Is the fiery passion between them enough to stick it out? Can she accept him? Fur, claws, fangs, and all?
Review:
This was entertaining enough for an evening read, but it's one we've all read a couple dozen times by now. Abused woman meets shifter in the morning, insta-love, explosive sex before lunch, a little unnecessary drama to fill out the pages, more sex, and in love by dinner. Meh. Nothing special there, no world-building, character development, or base for the love.
I did like how Harper stood up for herself and how Chris was often described as looking panicked or confused. It was cute. But I disliked how he came on so strong from the moment he met Harper and wouldn't back off, even when she clearly told him to. He felt like a player, which he's supposed to have been, but the sort that pressures women into sex they don't want to get him to go away. It did not make him endearing.
Further, everyone kept saying, "Yeah, he's a player, but he's really a nice guy" or "He doesn't treat women well, but he's a good person." Um, how exactly can you take that aspect of his character out, exclude it and say he's good. They are one and the same, there is no BUT. If he's a dick to women, he's a dick, period. He sure felt like one to me and never redeemed himself. He got what he wanted from Harper, pusher her away, got possessive, told her didn't want a relationship but still wanted sex, then claimed her again. And she just went along with his every whim on this issue. Meh. I never came to like him.
For a quick read that you can go into knowing what to expect, get a couple chuckles out of this is worth picking up. Just don't expect anything deep or well-developed.