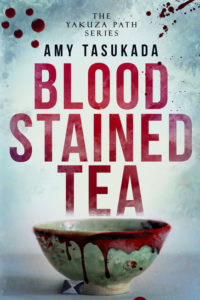 I was sent a copy of Amy Tasukada's Blood Stained Tea for review.
Description from Goodreads:
A bloody past haunts him. A devastating present calls him back…
Nao hides from his violent past in the Japanese mob by opening a teahouse in Japan's cultural center, Kyoto. His past comes flooding back when he discovers a gravely injured man with a tattooed chest, a bloody knife, and a Korean business card.
Saehyun would've died if not for Nao's help. He knows nothing of his savior's connection with the local mafia, but Saehyun has his own secrets. He commands the Korean mafia, the mortal enemy of Nao's former syndicate.
As Nao and Saehyun grow closer, so does the strength of the Korean mob. A shocking murder pulls Nao back into a past he'd all but abandoned. War is looming, and Nao must choose between protecting Saehyun or avenging the honor of his old mafia family.
Review:
Blood Stained Tea was a fun book to start the year with. I really appreciated that it contains a romance featuring a Japanese and Korean man, one of which is bi-sexual. Plus, being set in Kyoto, Japan is a nice change. Overall, I quite enjoyed it. I liked both the main characters, appreciated the difficult positions they found themselves in and was left wanting more when it ended.
However, Nao's logic often made no sense to me, nor did his constant assumptions about Saehyun. In fact, they were made so frequently and asserted so firmly that I felt very much like the author was trying to convince me of something I should be able to sense without being told (repeatedly). It was like they were both keeping themselves willfully ignorant and I'm afraid that just wasn't something I could buy into, considering how much both of them had at stake. Even when all but incontrovertible proof was presented, the two of them (Nao especially) somehow remained clueless. I just couldn't believe it, which meant a lot of the plot felt contrived.
Similarly, the decision and twist at the end was utterly unbelievable for me.  When the book was presented to me for review it came with this note: "…this is a m/m thriller. Though there is a love story throughout the novel it's NOT a romance, nor is it for the faint of heart. Lots of bloody violence and death." So I get that this event at the end is what makes the book a thriller rather than a romance. But I think the story tried too hard to straddle the genres and compromised itself. It would have been stronger, in my opinion, to pick one or the other. Especially since so many readers will be disappointed. Romance lover will be let down by the ending and thriller fanatics will likely be put off by the romance. Because for 99% of the book the romance is front and centre, even if it is practically an insta-lust.
Honestly, if not for the ending, I would call it an M/M romance using the Yakuza and Jo-pok for plot. Admittedly, a romance of the tragic, Shakespearean sort—very Romeo and Juliet—but a romance all the same. In fact, I'd call this a mix of Romeo and Juliet and The Godfather. Nao makes a very convincing Michael Corleone.
The writing is pretty good. The first chapter or so is a bit rough, but it smooths out fairly quickly. The editing also never grabbed my attention, which is what editing should do, and it was well-paced. All sex is off-page, so it's not particularly steamy, and the book has an awesome cover. Lastly, I totally agree with Nao about Oolong tea. It's my favorite too, especially the darker, heavily oxidized ones. Yum. I look forward to reading more of Tasukada's work.