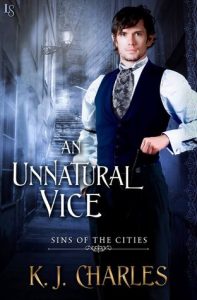 I received an ARC of An Unnatural Vice, by K. J. Charles, through Netgalley. And since I'm vacationing in Florida along with the lovely Tropical Storm Cindy, I've had lots of time to read. Luckily, where I am there are bucketsful of rain, but little wind and no lightning, so I can still sit outside, on the lovely screened porch, listen to the rain, look at the water and bask in the negative ions as I blissfully read without guilt because I've not taken the kiddos to a proper beach, just let the frolic in the pool. Everyone is happy.
Description from Goodreads:
Crusading journalist Nathaniel Roy is determined to expose spiritualists who exploit the grief of bereaved and vulnerable people. First on his list is the so-called Seer of London, Justin Lazarus. Nathaniel expects him to be a cheap, heartless fraud. He doesn't expect to meet a man with a sinful smile and the eyes of a fallen angel—or that a shameless swindler will spark his desires for the first time in years.
Justin feels no remorse for the lies he spins during his séances. His gullible clients simply bore him. Hostile, disbelieving, utterly irresistible Nathaniel is a fascinating challenge. And as their battle of wills and wits heats up, Justin finds he can't stop thinking about the man who's determined to ruin him.
But Justin and Nathaniel are linked by more than their fast-growing obsession with one another. They are both caught up in an aristocratic family's secrets, and Justin holds information that could be lethal. As killers, fanatics, and fog close in, Nathaniel is the only man Justin can trust—and, perhaps, the only man he could love.
Review:
Another lovely book by Charles; she just so rarely lets me down. I very much enjoyed Justin and Nathaniel's fiery passion, most when it was still in the enemies stage of this enemies to lovers story. The little bit of mystery was easy to figure out, but still pleasant, and I'm still on the hook for who the over-all, big baddy is. (Hopefully this will be revealed in the next book. I don't like to be strung along too long.)
I did feel the two men went to declarations of love too quickly. I thought the enemies, to friends, to lovers was well paced. But then suddenly there was love and sentimentality and such, and I thought that was a leap. I also very much disliked Nathaniel's sense of moral superiority and the fact that Justin acquiesced to it. The tone of 'let me show you how wrong your life is and how to live properly' grated on my nerves from start to finish.
All in all, however, I finished this pleased as punch and can't wait or the next one.