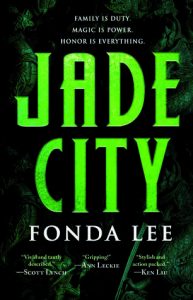 I borrowed a copy of Fonda Lee's Jade City
from the library.
Description from Goodreads:
Magical jade—mined, traded, stolen, and killed for—is the lifeblood of the island of Kekon. For centuries, honorable Green Bone warriors like the Kaul family have used it to enhance their abilities and defend the island from foreign invasion.
Now the war is over and a new generation of Kauls vies for control of Kekon's bustling capital city. They care about nothing but protecting their own, cornering the jade market, and defending the districts under their protection. Ancient tradition has little place in this rapidly changing nation.
When a powerful new drug emerges that lets anyone—even foreigners—wield jade, the simmering tension between the Kauls and the rival Ayt family erupts into open violence. The outcome of this clan war will determine the fate of all Green Bones—from their grandest patriarch to the lowliest motorcycle runner on the streets—and of Kekon itself.
Review:
I wouldn't say I loved this, though I liked it very much. It has a really rich world, with history and depth and politics warring with duty and personal desires. It explores the consequences of violence, gender politics, and greed. There are interesting grey characters, ones who do horrible things for what they think are the right reasons, ones who do the right things only to fail, and others who can't see beyond their won victimhood. For all that, I found it a tad ponderous and, though there are plenty of fights, it didn't feel particularly action oriented.