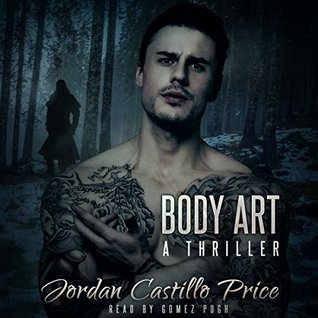 I received an Audible Code for a copy of Body Art, by Jordan Castillo Price, narrated by Gomez Pugh.
Description from Goodreads:
Does everyone have a certain "type" they end up with…whether they want to or not? If Ray Carlucci's ex is anything to go by, Ray likes his men gorgeous, rebellious, and chock-full of issues. But now that Ray is single again, he has a shot at a fresh start—a very fresh start, since his tattoo shop was gutted by repo men and he can fit all his belongings in the trunk of a taxi.
Ray's shiny new chauffeur's license lands him a job as a driver for an elderly couple on Red Wing Island. It's a cold fall, and since the Michigan island is the summer home to snowbirds who fly south for the winter, it's practically deserted—save for Ray's new household and a sculptor named Anton Kopec, who works day and night twisting brambles and twine into the distorted shapes of macabre creatures. Compelling, bizarre, and somewhat disturbing…not just the sculptures, but the artist, too. Ray has a feeling Anton is just his "type."
Despite their scorching chemistry, when a dead body is unearthed by some workers and a freak ice storm traps them all on the island, Ray can't say for certain that his new flame isn't capable of murder.
Review:
A short review for a short book.
I adored Ray as a character and thought Gomez Pugh voiced him beyond perfectly. Anton I liked a little less, but he's not the focus of the book. I do have to say though, that as a bipolar character, he felt very real. 
The mystery however wrapped up a little too quickly for me. (It didn't even start until well into the story.) And I felt like the Whites and everyone else at the home were simply abandoned. As a reader, I wanted to know their fate or at least touch base with them a single, conclusionary time. 
All in all, a great read.