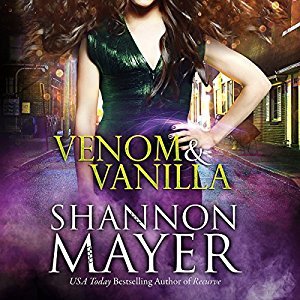 I borrowed and audio copy of Shannon Mayer's Venom & Vanilla (narrated by Saskia Maarleveld) through Amazon Prime. (I've just realized I can do this for audio books!)
Description from Goodreads:
Successful Seattle baker Alena Budrene doesn't want to die. But when she's infected with a lethal virus spread by supernatural beings, her only chance for recovery is to make a deal with the devil—or in this case, a warlock.
Though he saves her life, it looks nothing like the life she once knew—and neither does she. Alena is a new breed of "Supe" no one has ever seen before. Even the supernatural police don't know what she is. Now exiled to the northern side of the Wall, which marks the divide between humans and Supes, Alena is thrust into a dark and magical new world.
But just as she begins to adjust to all things supernatural, she realizes that her transformation is the least of her worries—and it was no accident. She was chosen…to be killed by a Greek hero trying to make a name for himself once more.
Alena was brought up to be subservient, preferring creating to fighting, and vanilla and honey to blood. But that was then. Now, to survive, she must stand up for herself—and this time she's got fangs. But will she be ready to use them?
Review:
I was not impressed. Another reviewer, who is on Mayer's street team, says the author calls this an urban fantasy parody. That makes the whole ridiculous thing a little easier to swallow. But it still just isn't very good. Maybe it needed to be more or less of what it is. More parody, if a parody or less parody-like if a serious novel. I don't know. Maybe an author who writes in the urban fantasy genre shouldn't be writing parodies of it unless they highlight what it is in big neon letters. Either way, almost everything about the book irritated me. 
First and foremost the stupid non-cursing grated like sandpaper. Hearing an adult woman, who is supposed to be kicking ass and taking names call someone a donkey's butthole instead of a jackass was not cute. It was super irritating. Similarly, wanna RUIN any sexual tension you have going on? Throw in a "He grabbed my bumm."
Mostly though Alena was just too perfect. She wakes up with the perfect body. She's loyal and sacrificing. She makes allies out of enemies with nothing but her sass. She defeats her foes with aplomb. She saves the day and gets the guy (if she wants him). And while all of that sounds fine, to have it all in one character is over-reaching and moves right into underdeveloped and unbelievable. 
All in all, this was a big old bust for me. No thank you.