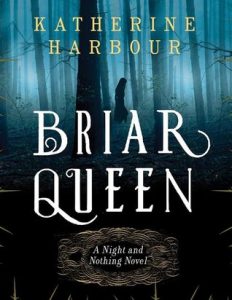 I borrowed a copy of Briar Queen, by Katherine Harbour form my local library. I reviewed book one, Thorn Jack in February.
Description from Goodreads:
Serafina Sullivan and her father left San Francisco to escape the painful memory of her older sister Lily Rose's suicide. But soon after she arrived in bohemian Fair Hollow, New York, Finn discovered a terrifying secret connected to Lily Rose. The placid surface of this picture-perfect town concealed an eerie supernatural world–and at its center, the wealthy, beautiful, and terrifying Fata family.
Though the striking and mysterious Jack Fata tried to push Finn away to protect her, their attraction was too powerful to resist. To save him, Finn–a girl named for the angels and a brave Irish prince–banished a cabal of malevolent enemies to shadows, freeing him from their diabolical grip.
Now, the rhythm of life in Fair Hollow is beginning to feel a little closer to ordinary. But Finn knows better than to be lulled by this comfortable sense of normalcy. It's just the calm before the storm. For soon, a chance encounter outside the magical Brambleberry Books will lead her down a rabbit hole, into a fairy world of secrets and legacies . . . straight towards the shocking truth about her sister's death.
Review:
This was ok. I thought it very similar to book one. Finn runs around with her merry, rag-tag team and reacts to whatever is thrown at her, always central to the action but never quite fighting. That is subtly left to the men.
I liked it all well enough. I've always been attracted to the dark, scary side of the fae myths. And there are some scary ones here. I appreciated that gender and relationships where diverse and there is some lovely writing in imagery in the book. Though I did irritably think if I had to read "fur-lined" one more time I might scream. Sometimes Harbour shook it up and wrote, "faux-fur lined," or even just "fur." But everyone seemed to be wearing a fur-lined coat and we apparently needed to be told that was what they were wearing every-time they came on page. Seriously! If someone read this on Kindle, search the word fur for me.
All in all, however, I found this a perfectly passable YA book.