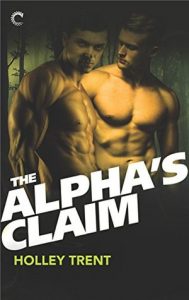 I received an ARC of Holley Trent's The Alpha's Claim from Netgalley.
Description from Goodreads:
Jim West, the New York Coyote pack alpha, has successfully defended his territory from external threats for almost fifteen years. Pack politics may be a pain in his ass, but his command has never been doubted, his authority never questioned. 
Until Teddy, an argumentative pancake-house server, challenges more than his patience. 
The lithe, pretty human calls to Jim's baser instincts. He knows instantly Teddy is his mate—but the timing couldn't be worse. Tension within his pack is growing, and adding a human mate to the mix could spark an uprising, with Teddy as the target. 
Teddy's smart mouth may heat Jim's blood, but with a full moon only days away, getting Teddy to let down his guard and accept him—the man and the beast—is his main priority. There's no fighting the pull of a mate, but learning his lover is a literal predator might make Teddy run right into the danger Jim's desperate to control. 
Review:
Look, this wasn't baaaaad, but it just wasn't very good either. The writing was ok and I liked the characters (even if the alpha was decidedly not alpha-like), but the story, the plotting, and conflict (lack there of) were a problem. Plus, I found what I consider a fairly large hole in the plot. I'll address it first.
The basic idea is that Teddy is Jim's mate. Jim recognizes him, immediately wants to make house with him and that's that. It appears to be a fated mates kind of deal. But one of the few conflicts in the book is that there is a lack of females near the pack and the pack members keep finding mates that Jim won't approve to join the pack. But if the world is set up to have fated mates, how can that be? It's not like finding a new girlfriend, they're MATES. I spent the whole book being like, what?
Secondarily annoying is the fact that I really don't understand the whole "he's an asshole to me constantly, so I lust after him" thing. I have never met a man or woman who purposefully treated me like crap, let alone came into my section of a restaurant, ran me ragged and then stiffed me on a tip (every week for months) and found them appealing, let alone sexy. So, chapter one I was already side-eyeing this story. And that is also a perfect example of how juvenile alpha-Jim is. He picks on the man he likes to get his attention.
The only relationship conflict seemed to hinge on Teddy being generically treated poorly in the past and therefore being wary of jumping into another relationship, which he does anyway. So what's the point in giving him a weakly described tragic past? And if you're going to do that, maybe be a little more descriptive and imaginative.
Then there is Jim. I liked Jim. He's puppy dog cute, but puppy dog cute is not an alpha. He never once did anything alpha-like. His pack is walking all over him. In fact, he seemed to want to find his mate in order to have someone to stand up for him and make the decisions. Speaking of, what he really wanted was a wife. Sure the book called it a keeper or a minder, but he wanted someone to clean and organize his house, fire his staff, keep him in line and sleep with him. He wanted a wife. And that wouldn't be a problem, except why write a male/male romance and then uncomfortably force one of them into such a cliched, gendered role?
All in all, I basically thought this a weak offering. It could have been bulked up, better thought out and plotted and been something special. Trent's actual writing skills seem fine and the characters are cute, but the book needs to be more and better.