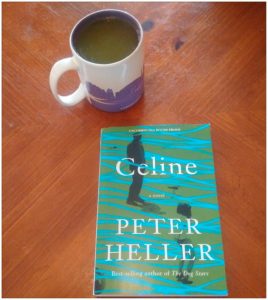 I won a copy of Peter Heller's novel Celine through Goodreads.
Description:
Working out of her jewel box of an apartment at the base of the Brooklyn Bridge, Celine has made a career of tracking down missing persons, and she has a better record at it than the FBI. But when a young woman, Gabriela, asks for her help, a world of mystery and sorrow opens up. Gabriela's father was a photographer who went missing on the border of Montana and Wyoming. He was assumed to have died from a grizzly mauling, but his body was never found. Now, as Celine and her partner head to Yellowstone National Park, investigating a trail gone cold, it becomes clear that they are being followed–that this is a case someone desperately wants to keep closed. 
Inspired by the life of Heller's own remarkable mother, a chic and iconoclastic private eye, Celine is a deeply personal novel, a wildly engrossing story of family, privilege, and childhood loss. Combining the exquisite plotting and gorgeous evocation of nature that have become his hallmarks, Peter Heller gives us his finest work to date.
Review:
Generally very good, though I thought Heller went a little overboard in some scenes trying to make Celine come across as too badass. The scene with the biker comes immediately to mind. It's a thin line, where on one side it works and Celine is cool and the writing interesting, and on the other her coolness feels forced and the whole thing is cringe-worthy cheesy. But mostly it worked; I liked Celine and loved Pete. Though if I'm honest, I couldn't figure out why Hank, who was barely a character at all, was given a point of view.
This is ostensibly a mystery, but that's really just the framing to allow the reader access to Celine's history. She's a fun character and it's not often you come across elderly, debutant PIs with emphysema as main characters. The writing is very good, though the whole things is quite slow and some of the leaps of logic the characters make to solve the mystery are a bit unbelievable. This is a book you read for the characters, not the action. It was my first Heller book and I finished it happy.
---
What I'm Drinking: Touch Organic, Mint Green Matcha