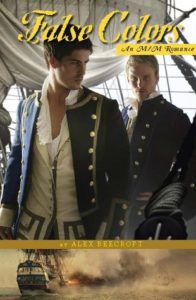 I borrowed Alex Beecroft's False Colors from my local library.
Description from Goodreads:
1762, The Georgian Age of Sail: For his first command, John Cavendish is given a ship—the HMS Meteor—and a crew, both in need of repair and discipline. He's determined to make a success of their first mission, and hopes the well-liked lieutenant Aelfstan Donwell will stand by his side as he leads his new crew into battle: stopping the slave trade off the coast of Algiers.
Alfie knows their mission is futile, and that their superiors back in England will use the demise of this crew as impetus for war with the Ottoman Empire. But the darker secret he keeps is his growing attraction for his commanding officer—a secret punishable by death.
With the arrival of his former captain—and lover—on the scene of the disastrous mission, Alfie is torn between the security of his past and the uncertain promise of a future with the straight-laced John.
Against a backdrop of war, intrigue, and personal betrayal, the high seas will carry these men through dangerous waters from England to Africa to the West Indies in search of a safe harbor.
Review:
This book obviously owes a lot to Patrick O'Brian. And while I only made it through one of O'Brian's books (Master and Commander), I responded in much the same way to this book as I did to it. Bored. While I can acknowledge that the writing is very good and I liked the characters, I got bogged down and bored with all the ship and sailing information. Maybe if I knew the difference between a schooner and a frigate or what the different masts looked like or the different sails, etc, it wouldn't all feel so extraneous to the plot. But I don't beyond a quick google search, so though all that information makes for a pretty read, and I recognize that it makes the book more complex and ostensibly better, I get bored with it.
I did like the two main characters and how they started out all shiny and optimistic, only to feel notably more worn as the book went on. I liked that I could see the shiny innocence of youth being chipped away. But I also cringed that the book is essentially a series of ways to abuse these same men, only to give them a crumb of happiness at the end. Because, while they finally get together, the book does not address how they can actually stay together. And considering so much of the book is masticating on the sin of being a 'sod' and the navy's severe punishment of it, the HEA felt like a HFN at best, with disaster on the distant horizon.
All in all, this is one of those books I can recognize as quality writing but just didn't like me up personally.