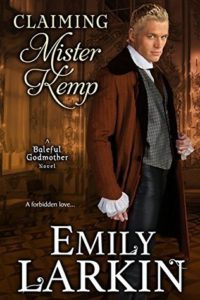 I received a copy of Claiming Mister Kemp, by Emily Larkin from Netgalley.
Description from Goodreads:
Lucas Kemp's twin sister died last year. He's put aside his mourning clothes, but not his heartache. If Lucas ever needed a friend, it's now—and who should walk in his door but Lieutenant Thomas Matlock… 
Lucas and Tom are more than just best friends; they've been in love with each other for years. In love with each other—and pretending not to know it. 
But this time, Tom's not going to ignore the attraction between them. This time, he's going to push the issue. 
He's going to teach Lucas how to laugh again—and he's going to take Lucas as his lover…
Review:
I thought this was ok, not great but not bad either. It's a 4th book in a series that I haven't read and it stood alone, but felt more like book 3.5 than 4. Both men are side characters from the previous book and there are several characters that I could tell were cameos even without reading the other books. It just didn't feel particularly fleshed out, even if the writing was very pretty.
I was also uncomfortable with how the relationship started. I understood Tom's seize the day attitude, but I really thought he was too aggressive, pushing Lucas even when he was actively saying no. I did appreciate the presence of bisexuals and the fact that sex didn't have to be penetrative to be satisfying and loving. So often 'romances' culminate with penetrative sex, as if it's the only real kind of sex and somehow marks a relationship out as real.
From what I understand of the other books in the series, they are fantasy. But there is no evidence of magic here. It's a fairly straight forward historical romance. I did get tired of Lucas' constant fretting. I understood it, but from the reading perspective, it got old. Lastly, I thought given all that emotional turmoil, Lucas seemed to get over it awful quickly, once the time came.