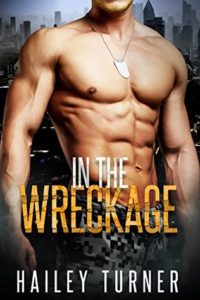 Author, Hailey Turner sent me a copy of In the Wreckage for review.
Description from Goodreads:
A Marine with honor. 
After surviving a horrific chemical attack that turned him into a metahuman, Captain Jamie Callahan got a second lease on life. For three years he's been working for the Metahuman Defense Force and leading Alpha Team—all against the wishes of his family. The job requires his full dedication, so it's no surprise Jamie doesn't have time for a relationship. An enticing one-night stand with a gorgeous stranger is all it takes to show Jamie exactly what he's been missing. When a mission to take down a terrorist cell brings that same stranger back into his world, Jamie's life gets complicated. 
A soldier with secrets. 
Staff Sergeant Kyle Brannigan was only looking to relieve some stress after a long mission. He didn't know the hot guy he picked up at a bar was the leader of the MDF's top field team. When Kyle and his partner get seconded to Alpha Team to help fight a terrorist threat, he has to balance his desire for Jamie against his duty to keep his secrets safe. That gets harder and harder to do amidst regulations both are tempted to break. 
Two men trying to survive. 
Giving into passion could cost both their careers. Abiding by the rules will only result in heartache. An attack on MDF headquarters brings with it a choice Jamie and Kyle can't escape—duty, or love?
Review:
Not bad at all. I quite liked Jamie and Kyle, as well as all the side characters. I liked that women were given equal time and treatment. I liked that the sex was filthy hot (a little over the top for my taste, but still hot). I liked that the two men explored power dynamics without having to formalize into BDSM or declaring "I'm your Dom and you're my Sub." If felt a lot more natural than a lot of authors attempts at this. I liked the idea of the world and how metahumans were created. There is a lot of good going on here. It's well written and I'd definitely read more.
However, I also thought the sex blotted out the plot at times and there didn't really seem to be an overarching plot line beyond 'these are metahuman soldiers who get set out on missions.' Yes, there were the good metahumans and the bad metahumans and theoretically neutral, civilian metahumans (though you never see one). But there was no apparent central villain or single disaster they were aiming to prevent, at least not as far as I could tell. So, it felt a little strung together and random. Plus, becoming metahuman was supposed to be rare, but there sure seemed to be an endless supply of them.
Also, while the writing was good for the most part, it did occasionally fall into heavy telling passages and occasionally the 'I'll use my powers to…' came across as cheesy. There were also a few really Hollywood scenes that stretched my credulity too far.
While I really liked Jamie and Kyle and I liked them together. There was not enough development in their romance to believe. I totally saw that they clicked sexually, but then suddenly they're falling in love and I couldn't fallow that at all. It's not quite insta-love, but it's pretty darned close.
Lastly, as much as I liked everyone, I had a hard time keeping up. There were a lot of characters, all of which had multiple names and it was really easy to get lost in it.