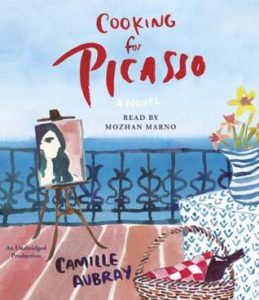 I received an audio copy of C. A. Belmond's Cooking for Picasso form Blogging for Books.
Description from Goodreads:
The French Riviera, spring 1936: It's off-season in the lovely seaside village of Juan-les-Pins, where seventeen-year-old Ondine cooks with her mother in the kitchen of their family-owned Café Paradis. A mysterious new patron who's slipped out of Paris and is traveling under a different name has made an unusual request—to have his lunch served to him at the nearby villa he's secretly rented, where he wishes to remain incognito.
Pablo Picasso is at a momentous crossroads in his personal and professional life—and for him, art and women are always entwined. The spirited Ondine, chafing under her family's authority and nursing a broken heart, is just beginning to discover her own talents and appetites. Her encounter with Picasso will continue to affect her life for many decades onward, as the great artist and the talented young chef each pursue their own passions and destiny.
New York, present day: Céline, a Hollywood makeup artist who's come home for the holidays, learns from her mother, Julie, that Grandmother Ondine once cooked for Picasso. Prompted by her mother's enigmatic stories and the hint of more family secrets yet to be uncovered, Céline carries out Julie's wishes and embarks on a voyage to the very town where Ondine and Picasso first met. In the lush, heady atmosphere of the Côte d'Azur, and with the help of several eccentric fellow guests attending a rigorous cooking class at her hotel, Céline discovers truths about art, culture, cuisine, and love that enable her to embrace her own future.
Featuring an array of both fictional characters and the French Riviera's most famous historical residents, set against the breathtaking scenery of the South of France, Cooking for Picassois a touching, delectable, and wise story, illuminating the powers of trust, money, art, and creativity in the choices that men and women make, as they seek a path toward love, success, and joie de vivre.
Review:
It took me quite a long time to get through Cooking for Picasso. Partly because it was an audiobook and those always take longer to listen to than for me to read, but also because it just felt like a really long book to me. I'm not a huge fan of literary fiction. I want to be and keep trying it, but it's rarely fantastical enough for me. But even though I admit this one was a pretty good one there was still a fairly long bit in the middle that lagged. The beginning is engrossing and by the time the red herons start toward to end, I was interested again. But the middle seemed to go on interminably.
I also so desperately wanted this to be some other story than a rebellious girl meets an older, famous man and sleeps with him. Granted, there is more to the story than this. But it is essentially this story and I didn't want it to be more, I wanted it to be different, less cliched. This feeling only worsened when one of the characters is sexually victimized late in the book. I saw why the author did it, what changes it brought about, but it is just such an overused plot device. My disappointment was severe to find two such trite tropes in the same book.
The writing is beautiful. The mystery kept me guessing. It had a someone pat happy ending, but it is happy. And I liked the narrator, Mozhan Marno. All in all, not a bad book. Not necessarily the right book for me, but not a bad one.