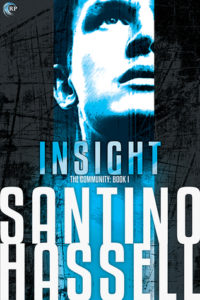 I received a copy of Insight, but Santino Hassell from Netgalley.
Description from Goodreads:
Growing up the outcast in an infamous family of psychics, Nate Black never learned how to control his empath abilities. Then after five years without contact, his estranged twin turns up dead in New York City. The claim of suicide doesn't ring true, especially when a mysterious vision tells Nate it was murder. Now his long-hated gift is his only tool to investigate.
Hitching from his tiny Texas town, Nate is picked up by Trent, a gorgeous engineer who thrives on sarcasm and skepticism. The heat that sparks between them is instant and intense, and Nate ends up trusting Trent with his secrets—something he's never done before. But once they arrive in the city, the secrets multiply when Nate discovers an underground supernatural community, more missing psychics, and frightening information about his own talent.
Nate is left questioning his connection with Trent. Are their feelings real, or are they being propelled by abilities Nate didn't realize he had? His fear of his power grows, but Nate must overcome it to find his brother's killer and trust himself with Trent's heart.
Review:
This was a one sitting read for me. I sometimes feel bad when authors work years on a book and I breeze through it in a couple hours, but that's what I did.
I quite enjoyed Nate and Trent, both are super sweet characters. But since it's basically an insta-love that isn't explained, I didn't really feel their connection. If there had been an explanation for their instant, meaningful attraction I might have bought it more, but as it's written I didn't understand Trent's dedication. He's wonderful and Nate was lucky to find him, and I understood Nate's position, but why was Trent so unnaturally attracted?
The mystery kept my attention. I had suspicions, but I didn't know until the reveal. So, that was nice.
The writing, as always with a Hassell book, is wonderful and I'll be looking forward to the next book. It'll be interesting to see how Holden grows and at some point I'd really like to see Uncle Dade's redemption, though I doubt that's on the books. God, what a tragic character!