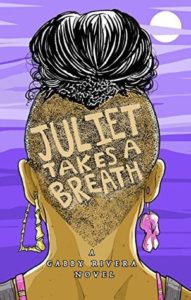 I received a copy of Gabby Rivera's Juliet Takes a Breath from through Netgalley.
Description from Goodreads:
Juliet Milagros Palante is leaving the Bronx and headed to Portland, Oregon. She just came out to her family and isn't sure if her mom will ever speak to her again. But Juliet has a plan, sort of, one that's going to help her figure out this whole "Puerto Rican lesbian" thing. She's interning with the author of her favorite book: Harlowe Brisbane, the ultimate authority on feminism, women's bodies, and other gay-sounding stuff. 
Will Juliet be able to figure out her life over the course of one magical summer? Is that even possible? Or is she running away from all the problems that seem too big to handle? 
With more questions than answers, Juliet takes on Portland, Harlowe, and most importantly, herself. 
Review:
I'm conflicted about this book. In so very many ways I loved it. I loved Juliet. I loved her family (once the ones that needed to come around came around). Special shout outs for how much I loved Melvin and hope he gets his own book when he's a little older and the Miami branch of the family. I loved the Portland crew, problematic as some of them were. I liked the way white culture and people were othered in a manner only a non-white author could write them. I loved the way Phen's use of words highlighted how language, even inclusive, social justice language, could be used as a weapon and/or to alienate someone. I appreciated the themes of the book and the engagement of White Feminism. I loved the diversity. There is so much to appreciate here.
But I found that while reading the book, I wanted more. But any time I set it down, I didn't want to pick it back up again. I had to sit on this review a little while to figure out why. And I think it's just that, as much as I appreciate the themes of the book and the journey Juliet takes, the book itself is too heavy handed with them. It often felt didactic. Rivera had to make Juliet too clueless to be believe for a 19yo, brown, lesbian in a liberal arts college, taking Women's History classes in order to impart lessons to the reader through Juliet. I felt battered by them and it took a force of will to subject myself to more, even as I thought, 'hell yeah' about most of them.
The writing is beautiful, though there is an awful lot of telling involved. All in all, however, I'd be up for more of Rivera's writing. I loved a lot more than I didn't.