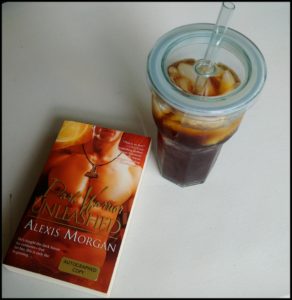 I posted about Dark Warrior Unleashed, by Alexis Morgan, a couple months ago, when I picked up four Morgan's books at a second hand story and was shocked to see them autographed and dedicated to Mom & Dad. How did the end up in a charity shop? I, of course, don't know. But it intrigued me. I gave the first a read.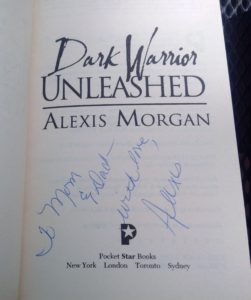 Description from Goodreads:
The rough and rugged Talions, sexy warriors who stop at nothing to deliver justice, star in this steamy new paranormal series from Alexis Morgan.

He's on a mission to annihilate the enemy. 
A Talion enforcer, Ranulf Thorsen has served his people for a thousand years, delivering the eye-for-an-eye justice by which his kinsmen live. Weary of the centuries-long fight, the fierce warrior with icy blue eyes has secluded himself on a mountain far from the chaos of the modern world below. Now he's been summoned to face the most dangerous battle of his life — and the fate of his people is on the line. But when he meets the beautiful woman he has sworn to defend… 
Ranulf and his bitter rival, fellow Talion Sandor Kearn, must find the rogue Kyth who set a violent fire in a nightclub. The near-deadly blaze's unlikely heroine, Kerry Logan, is also a Kyth, possessing the ancient Nordic people's unique ability to manipulate human energy. She just doesn't know it yet. …who will protect his heart? 
Kerry finds more than comfort in her warrior's embrace, and Ranulf hungers to both defend and claim the petite powerhouse for his own. But with time ticking away and their lives on the line, will Kerry believe the wild tale he's telling her, and master her powers…before it's too late?
Review:
Pretty bog standard, unimpressive paranormal romance. Not bad, just not in any way special or impressive. I appreciated that the heroine stood up for herself frequently and often got her own way. She seemed smart and determined.
But honestly, the villain was evil for no reason except that he was evil and he was a pretty cliched baddie too. The attraction between the H and h was almost instant. The Talions are supposed to be a group but no other Talion is ever actually mentioned. In fact, it felt like there was a whole dearth of people in the world. Like Morgan couldn't be bothered to flesh it out.
Worst of all, though ,was that there was very very little tension in the book. We're told frequently that this was the hardest mission of Ranulf's long life and that the villain had to be hunted, etc. etc. But the characters went dancing, ate, made love repeatedly and then the climax was brief and uninspiring. After all the villain's grandstanding your never shown his realization that he'll be defeated. Meh
---
What I'm drinking: Iced, cold-brew chicory. Chicory is a habit I picked up when I last gave up caffeine (cold turkey, even) and needed something more robust than herbal tea. Chicory tastes enough like coffee to sooth the beast and, hey, it happens to be good for you too.